On the Sunday of Minos, after a bit of chat, we run a small contest in the 11×11 maze and on a small line follower course. Here are the results
| | | |
| --- | --- | --- |
| Line follower best times: | | |
| David Otten | Jehu3 | 8.67 |
| David Otten | Jehu | 9.54 |
| Ian Butterworth | Asymouse | 13.23 |
| Bernard Grabowski | Wham Minus | 17.8 |
| Duncan Louttit | Wham Plus | 18.35 |
| | | |
| --- | --- | --- |
| Wall Follower best times: | | |
| Peter Harrison | Decimus5a | 31.17 |
| Bernard Grabowski | Muso | 35.15 |
| Bernard Grabowski | Leo | 39.5 |
| Emma | McCheesy | DNF |
| Ian Butterworth | Freda | DNF |
| | | |
| --- | --- | --- |
| Maze Solver best score times: | | |
| Peter Harrison | Decimus5a | 6.73 |
| Derek Hall | MouseX | 6.94 |
| Derek Hall | PicOne Turbo | 15.81 |
| Ian Butterworth | Freda | 21.78 |
I neglected to record the maze layout properly but this is the copy discovered by Decimus as it went around
1

2

3

4

5

6

7

8

9

10

11

12

13

14

15

16

17

18

19

20

21

22

23

24

25

26

27

28

29

30

31

32

33

o

--

-

o

--

-

o

--

-

o

--

-

o

--

-

o

--

-

o

--

-

o

--

-

o

--

-

o

--

-

o

--

-

o

--

-

o

--

-

o

--

-

o

--

-

o

--

-

o

o

o

o

o

o

o

o

o

o

o

o

o

o

o

o

o

o

o

o

o

o

o

o

o

o

o

o

o

o

o

o

o

o

o

o

o

o

o

o

o

o

o

o

o

o

o

o

o

o

o

o

o

o

o

o

o

o

o

o

o

o

o

o

o

o

o

o

o

o

--

-

o

--

-

o

--

-

o

--

-

o

--

-

o

--

-

o

--

-

o

--

-

o

o

o

o

o

o

o

o

o

o

o

o

o

o

--

-

o

--

-

o

--

-

o

o

--

-

o

--

-

o

o

o

o

o

o

o

|

^

|

>

^

|

^

|

v

<

<

|

>

>

>

v

|

|

o

o

--

-

o

--

-

o

--

-

o

o

--

-

o

o

--

-

o

--

-

o

--

-

o

o

o

o

o

o

o

|

^

|

|

v

<

|

v

<

|

v

<

<

<

|

|

o

o

o

--

-

o

o

--

-

o

o

--

-

o

o

o

--

-

o

o

o

o

o

o

o

|

^

|

v

<

|

v

<

|

v

|

^

<

|

v

|

^

|

|

o

o

--

-

o

o

--

-

o

o

--

-

o

o

--

-

o

--

-

o

o

o

o

o

o

o

o

|

^

<

<

|

v

<

|

>

v

|

>

>

v

|

^

|

|

o

--

-

o

o

--

-

o

o

--

-

o

o

o

--

-

o

--

-

o

o

o

o

o

o

o

o

|

>

^

|

v

<

|

>

^

|

>

v

|

>

v

|

^

|

|

o

o

--

-

o

o

--

-

o

o

--

-

o

o

o

o

o

o

o

o

o

o

o

|

^

|

>

>

>

^

<

|

^

|

>

^

|

>

^

|

|

o

--

-

o

--

-

o

o

--

-

o

o

--

-

o

--

-

o

--

-

o

--

-

o

--

-

o

--

-

o

o

o

o

o

o

|

>

v

|

^

<

|

^

<

<

<

<

<

<

|

|

o

o

o

--

-

o

o

--

-

o

--

-

o

--

-

o

--

-

o

--

-

o

--

-

o

o

o

o

o

o

o

|

^

|

>

v

|

^

<

|

>

>

>

>

>

^

|

|

o

o

--

-

o

o

--

-

o

o

o

--

-

o

--

-

o

--

-

o

--

-

o

--

-

o

o

o

o

o

o

|

^

|

|

>

v

|

^

|

^

<

<

>

>

v

|

|

o

o

o

--

-

o

o

o

--

-

o

--

-

o

--

-

o

--

-

o

--

-

o

o

o

o

o

o

o

|

^

|

>

^

<

<

<

<

<

<

|

|

o

--

-

o

--

-

o

--

-

o

--

-

o

--

-

o

--

-

o

--

-

o

--

-

o

--

-

o

--

-

o

--

-

o

--

-

o

--

-

o

--

-

o

--

-

o

--

-

o
completed

after

3.803

seconds

and

5332

millimeters

that

is

1402

mm

/

s

average

STATUS

CHANGE

:

Run

to

Home

.

completed

after

5.388

seconds

and

5095

millimeters

that

is

945

mm

/

s

average

speedRun

finished

-

battery

=

6.87

V
Interestingly, it took a shorter route home (at lower speed). Presumably it found the other route to be faster. Who knows what they do? The time recorded on-board is always a little longer that that recorded by the timing gear.
The maze timing results are suspect because search penalties seem to be missing on most runs.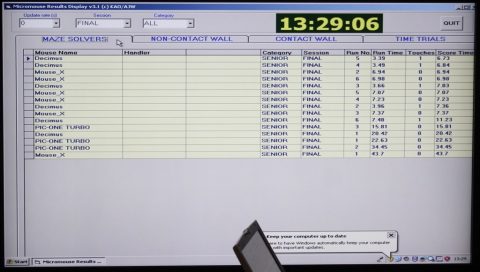 Remember that the UK contest scoring includes maze search time and any touch penalties.
Another curiosity comes from running it in wall-following mode. I don't think I can run it much faster through unknown mazes and yet the dedicated (and, lets be honest, less smart) wall followers are nearly as fast. Some lessons to be learned there I think.