The maze used for micromouse is described in the rules. For (my) convenience, I have reproduced the maze description from the IEE rules. I have seen no significant local variation from this description for other micromouse competitions.
The maze shall be a 16 x 16 square array of 180 mm x 180 mm unit squares.
The walls constituting the maze shall be 50 mm high and 12 mm thick.
Passageways between the walls shall be 168 mm wide.
The outside wall shall enclose the entire maze.
The sides of the maze shall be white, and the top of the walls shall be red.
The floor of the maze shall be made of wood and finished with a non-gloss black paint.
The coating on the top and sides of the walls shall be selected to reflect infrared light and the coating on the floor shall absorb it.
The start of the maze shall be located at one of the four corners.
The starting square shall have walls on three sides.
The starting square orientation shall be such that when the open wall is to the "North", outside maze walls shall be on the "West" and "South".
At the centre of the maze shall be a large opening which is composed of 4 unit squares. This central square shall be the destination.
A red post, 200 mm high and 25 mm on each side may be placed at the centre of the large destination square if requested by the handler.
Small square posts, each 12 mm x 12 mm x 50 mm high, at the four corners of each unit are called lattice points.
The maze shall be constituted such that there is at least one wall touching each lattice point, except for the destination square.
The dimensions of the maze shall be accurate to within 5% or 20 mm, whichever is less.
Assembly joints on the maze floor shall not involve steps of greater than 0.5mm.
The change in slope at an assembly joint shall not be greater than 4 degrees.
Gaps between the walls of adjacent squares shall not be greater than 1mm.
Here is a picture of a small section of maze used at MINOS'01 showing something of the way it is constructed: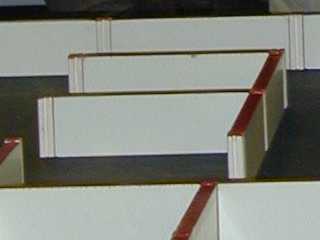 Here is a larger view showing many of the mice present: