Having half a mind on the challenge of half-size micromouse, I was looking at some information on the megabitty controller. As supplied, it may well have enough features to make a micromouse controller but that wasn't what caught my eye. On the board are two full-bridge motor drivers. While looking for data on these, I came across the slightly more flexible Si9986, also by Vishay…
I have simply stolen from the datasheet for the description:
The Si9986 is an integrated, buffered H-bridge with TTL compatible inputs and the capability of delivering a continuous 1.0 A at VDD = 12 V (room temperature) at switching rates up to 200 kHz. Internal logic prevents the upper and lower outputs of either half-bridge from being turned on simultaneously. Unique input codes allow both outputs to be forced low (for braking) or forced to a high impedance level.
The Si9986 is available in 8-pin SOIC packages, specified to operate over a voltage range of 3.8 V to 13.2 V, and the commercial temperature range of 0 to 70 °C (C suffix).
This looks ideal for a small robot. No figure is given for RDSon but the chip is rated for a continuous 1.0A at room temperature. You can expect it to get pretty hot though. If you don't want the flexibility of the separate A and B channel Drive, there is the Si9988 which uses locked anti-phase drive and an enable pin. This can drain the batteries pretty quickly with low inductance motors in some applications though.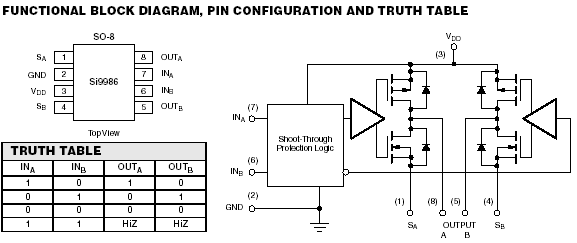 I can only find Mouser as a possible supplier: look here
You can find the chip details at the Vishay site: look here
There is a good page describing different ways to drive this chip: look here