It took nearly 24 hours to get here but it has been worth the effort. The 2009 Taiwan Micromouse and Intelligent Robot contest starts tomorrow morning – September 19th. The venue is very good with a clear view for all the spectators and some excellent facilities for the competitors. As well as the local competition, there is an invited international event toward the end of the day. Competing here will be Ng Beng Kiat, Dave Otten, Fumitama Nakashima, Yusuke Kato and me….
Testing so far has not gone too well with Decimus having trouble with some of the corners. As far as I can tell, the walls are giving perfectly reasonable responses although I can see as much as 10% variation in reflectivity along a given wall. While this can affect the steering – especially as my steering is not very sophisticated – it should not affect the forward error corrections that determine whether or not the mouse can get around a corner reliably.
Well, we shall see what the morning brings. Here is a picture of the competition arena today. Photo quality is not too good as my luggage went to a different place from me and I only had the iPhone camera with me.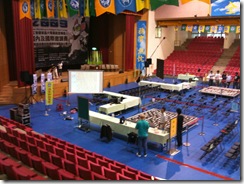 Update: Luggage arrived at 10pm on the Saturday evening – much to my relief.