While there are several flights available out of Taiwan, it was convenient for me to take the late, overnight flight. It does not leave until 10:45pm so that gives an entire day in which to visit some more of the island. Efficient transport and a small island make it quite possible to go just about anywhere. This time, I chose to take the cable car up to the mountains near Taipei Zoo.
With the entire day to play with, and not wanting to get overtired since my flight was quite late, I started with a leisurely breakfast and a chance to talk micromouse stuff with David Otten, Ng Beng Kiat and Khiew Tzong Yong. Breakfast at the Grand Forward is an excellent start to any day. The breakfast buffet caters for all tastes and it is all to easy to make several visits while getting fuelled up for the day ahead.
We said our goodbyes and went off to pack. No rush. Everything managed to fit back in the bags and i checked out, leaving my bags and valuables in the care of the hotel. Transport to the airport had been arranged for 8pm so I sauntered off to the MRT station and purchased a day pass with the option for the gondola. These are only about NT$250 (£6) and would allow me to travel anywhere on the MRT as well as including a pre-paid gondola ticket – excellent value considering the gondola ticket is normally NT$100.
The Maokong Gondola is a 4km long cable car that goesup into the hills about 300m above Taipei. It starts at the Taipei Zoo. There was not really time to do the zoo justice so I gave it a miss this time although I would have liked to see the pandas. The Gondola closes on Mondays and everyone seemed to be at work or school on the Tuesday so there were not many people there. A highlight of the system is a set of glass bottomed cars which come with a bunch of warnings about risks of overexcitement for the young, old, infirm and nervous. With so few visitors, it was not too surprising that everyone wanted to use the glass-bottomed carts instead of the normal ones. That meant there was a modest queue of 15 minutes while all the normal cars went past completely empty. As it turns out, I would suggest that you take a normal car as the glass bottoms don't provide much more to see since the cable cars pretty much follow the hills up and down anyway so you are never at very extreme heights above the ground. There will be less queing and you will not miss much.
The ride, however, is pretty spectacular with excellent views over New Taipei City. You can see a large amount of it, including Taipei 101. When you finally reach the top, there are numerous opportunities to get food and follow one of a number of trails to various attractions – predominantly tea plantations and tea houses. I didn't expect to spend too long up there so I took myself off along the Red trail indicated on the signs, looking for somewhere to have lunch. In spite of it being a major tourist attraction, there was almost no concession to non-chinese visitors. That meant that there was no clear way to ask for food with my scant knowledge of Chinese (I can just about mumble thank you). It was not clear what was on offer in what quantities or combinations. It all loked interesting but I just couldn't work it out. On other occasions, I have simply copies what someone near me was having or been ale to point at a picture. After passing one restaurant or tea house after another, I came to what appeared to be the last place on the road. Lucky for me then that all the others were too intimidating to use.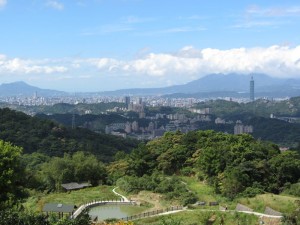 This place seemed to have the best view in the immediate area with a balcony seat, under cover (it had rained for a while) and a couple of diners. A few gestures at their plates got me a table and a menu with English translations. There were pages of possibilities. The stir-fried section alone included pork, prawns, squid, pig intestines, pig lips and frogs. And it was not a question of the same thing in a different sauce as you might see in a restaurant at home, these were all different dishes. With an somewhat impatient woman wondering why I needed so long, I went for stir fried pork strips with fresh vegetables and steamed rice. Excellent choice. No idea what the vegetables were but the dish was very tasty with ginger and chilli. With the obligatory tea, it came to NT$250 – even though I was sure the menu showed the meat dish at NT$250 and the rice at NT$50. Interestingly enough, the menu included a section called 'good tea' at NT$300. Goodness knows what they meant by that exactly.
Seems I was lucky in getting up there when I did. Some time while I was eating lunch, they closed the cable cars because of high winds and we all had to take a free shuttle bus back down. There was a waiting area with more than would fit in a bus. Fortunately, I was just in the first bus load. While waiting, we were given free water to drink and there was some deal I didn't understand about pencils. There was also a small boy of about 3 or 4 years old called BeeBee I think. He took it upon himself to explain several things to me in great detail accompanied by much finger wagging, the embarrassment of his parents and the general amusement of everyone nearby. No sooner had he run out of things to say and returned to his parents than he would start up again. This went on until we had to get up to board the bus. I tried to guess his intention and nod or shake my head but I have no idea what most of it was about. I think he started off by telling me the gondolas were closed because there was too much wind. It was no real surprise to find that, by the time we got off the bus, he was fast asleep and being carried by his father.
On the Monday tour we had visited the Taipei equivalent of Akihabara Radio Town but did not have time to do it justice. Since it was a short walk from a stop on the way back to the hotel, I decided to pay a return visit. The MRT stations helpfully have maps up showing what exits go to which streets. I knew the Guang Hua Digital Plaza was north of the station so I located the appropriate exit and set out. After ten minutes it began to dawn on me that things were not quite right. With the sun to my right, I must have been heading south but had not realised it. In the MRT stations, I think they orient the station plans to your position rather than have them all with North at the top. Shan't let that catch me again. I hope. So, back the way I came an on northwards until I saw some familiar buildings and soon enough I found the Digital Plaza building. It was closed! Still, there is an adjoining area stuffed full of computer shops and one reasonable component store to soak up my interest for an hour or so.
Eight stops on the MRT took me to Fuzhong station very close to the hotel. I still had a couple of hours to kill so I walked around the local area and the night market there. A very tasty glass of fresh Grapefruit and orange juice and some kind of fried batter cake like a thick pancake kept me from getting too hungry. I asked what was in the pancake but the girl, unable to find the right words, told me there was nothing in it. Pretty tasty for nothing. the night markets all provide endless opportunities for snacks. In fact, if you go to the Taiwan tourist web site, they have a whole snack tour at one of the waterside markets to the north west of Taipei city.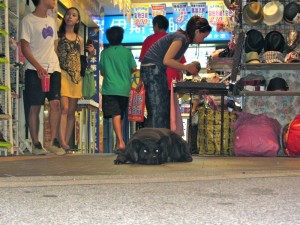 With so many small streets it ws not long before I started to wonder if I was lost. That would have been embarrassing at best. Fortunately, although it was dark now, there are some large distinctive buildings that appear from time to time down side streets and these allowed be to get back to the hotel before proper worry set in.
I still had over an hour but by now I was hot and sweaty. Back at the hotel, when I asked if I could wash and change some clothes, they gave me the keys to the sauna and jacuzzi so that I was able to have a shower and change my clothes in some luxury. This is exactly what they offered last time and it is typical of the good service I have seen at the Grand Forward Hotel. So, clean and fresh, I had about 40 minutes to wait in the lobby bar before being collected.
My ride to the airport arrived on time and took me straight to the terminal. The ride took about 45 minutes. The contest organiser – Juing-Huei Su – arranged all the transport and did an excellent job. We never had to worry about anything from the moment we set foot in Taiwan.
The flight back out was relatively uneventful. China Airline has online checkin and seat selection. They didn't use the same booking reference that I had from my travel agents but the booking confirmation included a link to a web site that gave the alternative reference and I was able to change my seat so that, once again, I had a window seat with no immediate neighbour. Sharing the row with me was a young woman going to Amsterdam to visit the boyfriend she met while working there in the last few years. She has made the trip a number of times. The flight to Bangkok was otherwise pretty crowded. Mostly, it seemed, with Thai nationals going home. Possibly from a vacation according to my travelling companion. She also indicated that the second leg was likely to be quite empty. In fact it was very empty and pretty well everyone on economy was able to have an entire row to themselves. I managed to score a center row giving me four seats to stretch out in. I finally achieved that goal and so got about 5 hours proper sleep. For comfort, there are four pillows and blankets so the pillows, which are, of course quite small, can be wrapped in a blanket to make one pilow that is of a reasonable size. The seatbelt, at full extension, is long enough to go around me with enough slack to permit movement and still stand a chance of keeping me in my seat in case of serious turbulence.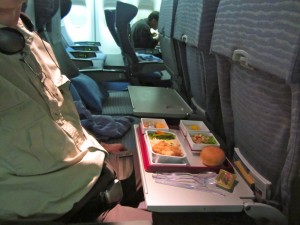 Food on the flight was quite good although I was not very hungry. Actually, I have not been hungry since leaving the UK. Best to eat it all though since you can't be entirely sure where your next meal is coming from. We will landed about 10 minutes behind schedule which left me a little concerned that the Amsterdam airport authorities will bump me to another flight again. I made the connection easily. Unfortunately, my baggage didn't so I had to go through the form filling and delays again. Service was pretty good though, with on-line tracking of what is happening and I got my case delivered to my door later that evening. Ha ing had the same thing happen in the opposite direction last time I visited, I have now concluded that 1 hour is not a safe amount of time to allow between flights at Amsterdam. Possibly not anywhere else either.
It is pretty mad to go all the way to Taiwan for just a four day visit. Not most people's idea of a long weekend break but I had a great time and I want to thank Juing-Huei Su, Lunghua University, the Taiwan Ministry of Education and all the other individuals whose hard work made it possible and such a great pleasure. They were fantastic hosts who made sure we wanted for nothing during our trip.
Links: