Simpler is often a good thing. For the new mouse, I wanted to make the sensor arrangement as simple as possible. One way is to drive the emitters from the battery supply…
In the past, I have always driven the sensor emitters from a regulated voltage. The main reason is that the brightness of the emitters will not change as the battery voltage drops during a run. A down side is that you will be generating fairly large pulses on the regulated logic supply and this is a potential source of noise. Looking at pictures of mice, it was apparent that Kato's Tetra and Bee have the sensor emitters connected directly to the battery supply. On the face of it, this is not a good idea since battery vopltage can vary quite a lot while the mouse is running around. Nonetheless, it seems to work well enough for him so how can that be?
A simple test rig has a sensor connected to an Arduino since these are wonderfully flexible and easy to use for this kind of experiment. The detector is connected in the usual way but the emitter has its anode connected to the bench supply. Now it is possible to set up a wall at a fixed distance and measure the output from the detector with various different supply voltages. What we hope for here is a linear relationship between the supply voltage and the sensor reading. If that is the case, simple scaling arithmetic will allow us to measure the supply voltage and calculate a correction for the sensor reading to make it independent of the supply. If the result is non-linear, then life gets more difficult and correcting for the supply voltage is tricky. Here are the results form a quick experiment: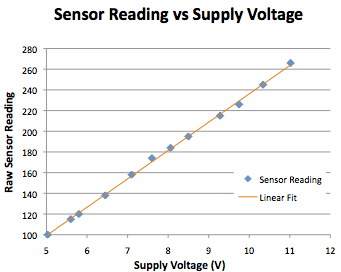 The results are not perfect because the experiment was cobbled together on the desk with whatever came to hand and there was a fair bit of noise. But there is a clear linear relationship between supply voltage and sensor reading. This is just what I would hope for. For the new mouse, it mean I can completely eliminate a voltage regulator whose only job would have been to provide a stable supply for the emitters.