Last month, I was able to visit Taiwan once more for the 2012 Micromouse and Intelligent Robot Contest. It has taken a while before I was able to write up this trip unfortunately.
As ever, our hosts in Taiwan were fantastic. We were wonderfully looked after throughout our stay. This year we stayed at a different hotel that was a little more conveniently placed for the contest venue at Lunghua University. The hotel was very good. Being quite busy, it took me two days to realise the entire centre was a huge atrium set out for wedding receptions. There were two weddings while we were there and both seemed pretty spectacular.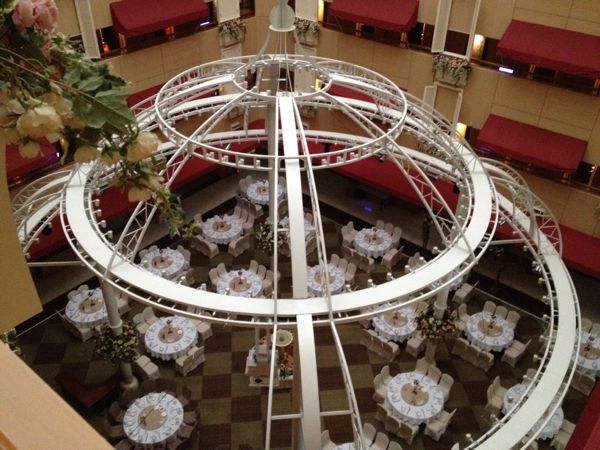 The area immediately around the hotel has a small slice of everything that makes Taipei so interesting. In just a few minutes walk, I found temples, markets and any number of specialist shops and small businesses. I would imagine there are very few needs that could not be met within a remarkably small radius.
It was a great pleasure to meet up with the other International contestants and to meet again with some of the staff and contestants from Taiwan. Since my first visit in 2009, the Taiwanese entries for micromouse have made huge progress. Far more so than me unfortunately. Taiwanese built mice are now competing at the very highest levels and I can't help but feel that the first All Japan victory for a Taiwanese mouse cannot be far off.
On our first morning, we were able to play tourist. Having missed out on a bicycle ride last year due to rain, we set out to the hire shop at Guandu for a short but fascinating trip along the Gold Coast Bikeway along the eastern bank of the Danshu River where it flows into the Taiwan Straight.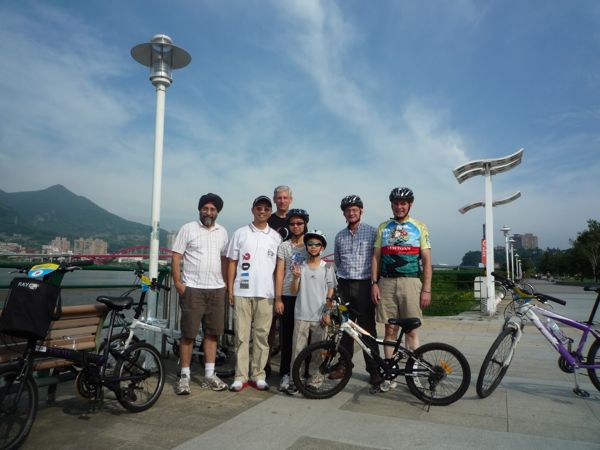 Our next stop was to the Maokong Gondola. This is something of a must-do for any visitor to Taipei. The gondola takes you from the Taipei Zoo high up into the mountains overlooking Taipei City. I would imaging that, at night, the view is especially good. Famous for its tea and the many opportunities for fine Taiwan eating, I thoroughly enjoyed my visit.
Eventually, we found ourselves at Lunghua University to meet the other contestants and to get in a bit of a practice session. As in previous years, there were several contests going on. This must all be a nightmare to organise but everything runs very smoothly. The venue was the same as last year and we soon settled into get the mice tuned up for the local conditions.
After my difficulties in preparation, I was not hoping for too much. That turned out to be just as well as I could not seem to stop the mouse from wantering off to one side. It took a while to work out that the right-hand wheel was binding. Now the controller software should compensate for a certain amount of difference between the two drive wheels. However, on inspection, the wheel was binding quite a lot. All I could do at this stage was to clean it up as best I could. Eventually, it was running reasonably well but I was a bit worried. By the time we got to lunchtime on the day of the contest, there was little else that could be done and i had to run the mouse as it was.
Everyone else seemed to be getting on pretty well although Dave Otten looked a little concerned with the performance of his mouse. The Singaporean and Japanese mice appeared to be fairly relaxed and were giving typically excellent performances. One day, I hope to have a properly stable mouse codebase. It is getting there but there are still a few features that need adding before it is ready. This is aside from the performance issues. For example, I have a poor search algorithm. I know it is poor. I know what needs to be done. However, I spend too much time on tuning up the low level code to get much progress with the high-level stuff. I really envy those who have been able to get to that stage.
On the day of the contest, the event starts off with an opening ceremony. Previously, this has involved speeches from VIPs such as the University Principal. This year, all the International Contestants were asked to give a short speech to the assembled crowd. Clearly, I know no Chinese and neither did the Japanese contestants. There were translators available however and we all sat expectantly on the stage waiting our turn. I found the whole experience more unsettling that I expected and, right up until the moment I stood up, I really had not decided what to say in any detail. Speaking with a translator was also a whole new experience and I would imagine that practice makes perfect there. I have no idea what the Japanese contestants said and little enough recollection of what anyone said but the audience seemed appreciative enough.
While we waited to take part in our own contest, we were able to have a good look at the other events and some of the entries. New this year was a line maze solving contest. This is probably familiar to many and is quite popular in the USA I believe, The expectation is that a line following robot will follow the lines, work out the correct/best route from one end to the other and then run it quickly. That is, indeed what happened. However, there was more than a little surprise when one entry performed diagonal moves across some of the right-angle turns. On the face of it, this was cheating and there was some debate about how legitimate this was. It turned out that the entry had already been cleared by the officials and the ruling was made clear to us. In order for the mouse to call itself a line-follower, there must be some part of the robot body directly over the line at all times. This is a really interesting point. I have often wondered how closely a robot is expected to follow the line. The more common line-following contest often puts a shallow wiggle in the line at the middle of a long straight. Under this interpretation of the rules, the mouse would be able to run straight over it at speed. If it can work out that such a move is possible. I await developments and interpretations in Japan with some interest.
Among the various robots present, two stood out as particularly interesting. One was Dave Otten's new line follower. Rather than use the normal array of reflective sensors hanging out in from of the robot, Dave has elected to use a linear sensor – a Position Sensitive Device of the type used in his triangulating distance sensors. This sensor sits up high, looking down on the line. In this way, Dave hopes to eliminate the large moment of inertia that comes with more conventional sensor arrangements.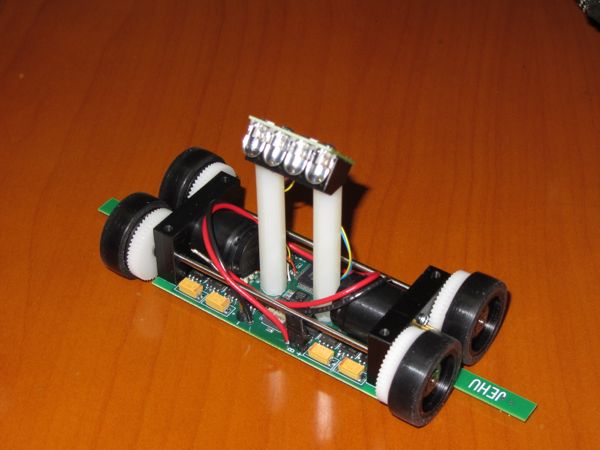 Nakajima-san produced the prototype stage of his new line follower. As usual for one of his builds, this is beautifully put together. It seems overly elaborate to me but then what do I know. In any case, it is a thing of wonder.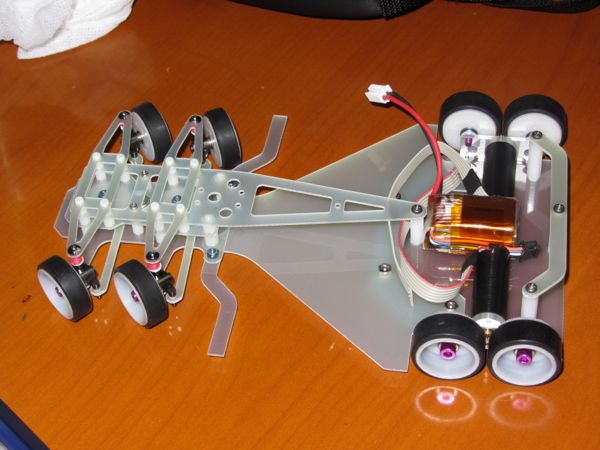 A defining feature of the Taiwanese contests is that they run the mice in a random order. I am not sure why this is but they seem to me to miss out the steady increase in tension as the entries get faster and faster when mice are run in reverse order of expected outcome. For me, it meant Decimus 2C ran last. I did get the worst score of all the mice that catually completed a run and two other mice failed to finish so. One of those that did not finish was Dave Otten's MITEE. THis was particularly unfortunate as it was due to a single faulty sensor. This is the issue that had been worrying Dave during practice and it ended up rendering the mouse unable to complete. The full results are shown below. Note that the Taiwanese scoring system has a penalty added for the amount of time taken to search the maze and a bonus subtracted if the mouse manages to run without being touched. For that reason, the figures shown are the scores, not the actual run times. So, for example, I am not sure that Beng Kiat's Min 7.2 ran the maze in 4.35 seconds but it will have picked up a bonus of three seconds for running untouched. As with the UK rules, the scoring system makes it almost impossible to improve your score after the first fast run.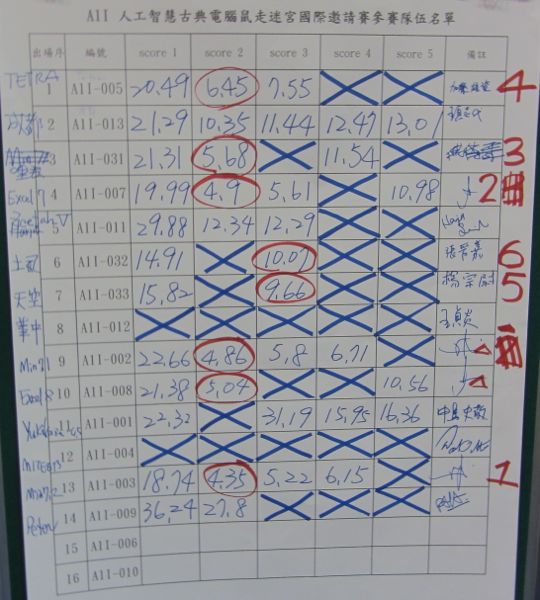 On the last day, my flight, as before, leaves really late in the day so I was able to join Juing-Huei and Beng Kiat on a trip to the Ruifang district on the North East coast of Taiwan. Here we started our visit in Jiufen, a former mining town, that has become a popular tourist destination. The mining industry declined in the 1950's but now, the winding streets are packed with small shops selling an endless variety of goods. If you visit, be prepared to climb a lot of steps as the town is set well up a steep mountain side.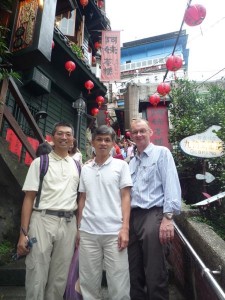 After lunch, we visited the Gold Museum in nearby Ruifang Township. This was a fascinating visit. Apart from the mining history and the opportunity to tough a huge piece of pure gold, the museum also has a collection of some of the best preserved Japanese buildings on the island. These offer a remarkable glimpse of life in traditional Japanese Dwellings from 60 or more years ago. The site also has a house built for the visit of Prince Hirohito. He never came and, while you cannot see much of the interior of the house, it is apparent that the builders expected him to be a fan of miniature golf.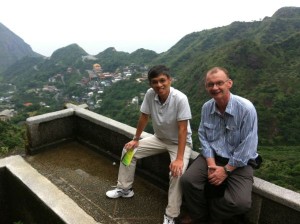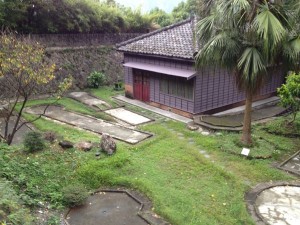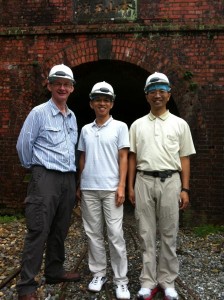 And so another trip comes to an end. I enjoy tremendously my opportunities to visit Taiwan. Some time, I hope to be able to stay for rather longer. Not only are there many things to see in the area around Taipei, I understand that the soutthern end of the island is very attractive as well.