After the excitement of the contest day, we all had the opportunity to play tourist as we were treated to a day out visiting some of Taiwan's attractions. This was a great chance to visit places in Taiwan with local guides and help to explain everything. While not a large island, Taiwan has much to offer visitors. The west is where most people live since pretty well two thirds of the land area is mountainous.
Indeed, it is mountainous enough to be the worlds fourth highest island after Borneo, Hawaii and New Guinea.
Our trip today started at the Office of the President or the Presidential Office building. Thus large and ornate office building was constructed by the Japanese during their occupation and used to be the governor's mansion. Rebuilt in 1946 thanks to bomb damage during the war, the building now houses a museum showing the history and achievements of Taiwan. Many of the things told to us by our excellent guide, Nancy, were something of a surprise. Not least was the fact that the history of Taiwan is actually linked with Dutch trading interests from the middle of the 17th century.
With a head full of information and questions about the history of Taiwan and its people, we boarded the minibus again for a trip to Yilan  County. This lies on about the only flat area in the north east of the island – the Lanyang Plain. The journey by road takes about 50 minutes and passes through the Hsuehshan Tunnel, Asia's second longest at 12 km. The Lanyang Plain is a major agricultural region with large flat areas of fertile soil. If I remember correcty, it is possible to reap three rice crops per year. There are many attractions in the area and I expect it is a popular vacation destination for Taiwanese people as well as foreign tourists. We visited the National Centre for Traditional Arts. Relatively new, the centre has a number of exhibitions and displays, shops and restaurants. Our first stop was for lunch. The number eight is considered lucky in Chinese. There were eight of us and Juing-Huei ordered a set menu for eight. Apparently, that also meant there were eight dishes but it seemed more. No sooner had we sized up the dishes on offer and given them our best attention, when more arrived. We were lucky they stopped coming before we were physically incapable of eating any more. Not that I remember that being a problem in the past.
Pretty well fed now, we made our way through the row of small shops showing off a variety of traditional crafts and products. One which caught our eye was selling large block of a substance nobody could immediately identify. Irrationally, in retrospect, the first thing that came to mind was tofu but it turned out to be soap!
A little way across a small bridge was the House of Huang. An example of a tradition three-section house built around 1870, it belonged to Huang Zuanxu who I think was ateacher. Inside there are many exhibits of how the house would have been used and the kind of furniture and implements used at the time. Most entertaining for me was a woven basket for hanging meat out of the reach of cats. The type of basket is named for its effect on the cats and the name apparently translates as 'a cat angry to death'.
Water buses run between the centre and the Dong Shan River and we took a scenic ride down to where we would meet the bus to take us back to Taipei. Although only mid afternoon, we were all pretty sleepy by now and the ride back was a welcome opportunity to rest.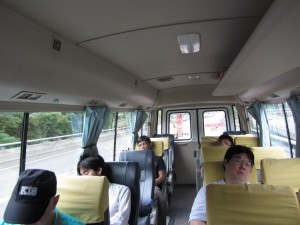 The intention on returning was to take a bicycle tour of part of Taipei. I am not sure exactly where this would have been but there was more than a hint of rain about so the cycling was cancelled and, instead, we went to visit the Taipei equivalent of Tokyo's Akihabara district. In Taipei, this is the  Guang Hua Digital Plaza – a six story building packed full of small vendors selling an amazing variety of electronic and electrical products. We only had about 40 minutes to look around here which was just as well as I would certainly have found something I just had to have otherwise. The roads around here are also full of shops selling computers and computer components. Curiously, you might expect prices here to be significantly cheaper than in the UK, considering most of the products were made in Taiwan but that is not the case. While there were lower prices, any import duties or taxes would make that a very bad choice. Even if you leave out how hard it would be to take it back to the shop if there were a fault.
While not exactly hungry, it was now dark and time to find our dinner. Having sampled several variations of Taiwanese food, our host chose the Pearl River restaurant in the Howard Plaza Hotel, Taipei by way of variation. The Pearl River offers Cantonese food and Dim Sum in particular. If you go to a Chinese restaurant in the UK, the chances are that what you are offered is most likely to be Cantonese. I have no idea why that is but here we had some great dishes that were at least familiar from past experience. Several kinds of Dim Sum were served along with an uncounted number of other dishes. Most striking was a plate piled high with several crabs. regardless of what was served, we demolished the lot.
By now, the bus driver had gone home and we made our way back to our hotel on the Mass Rapid Transit (MRT) – the underground/overground rail system that runs around Taipei. This is a clean, fast and efficient system that, even when very crowded, still seems to remain orderly and unintimidating. Ticket machines are simple to use and signs and announcements are generally written in both Chinese and English so getting around is remarkably easy. Our Hotel, the Grand Forward, is situated only about 50 metres from the Fuzhong station on the MRT so travel is particularly convenient.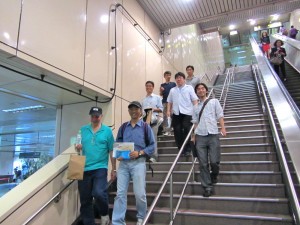 If you want to find out more about some of the places we visited, try these links:
cfbcxf