Lucky students at Indiana University might like to enrol on the [C – H]335 Computer Structures course run by Geoffrey Brown. If they do, they will be treated to a great introduction to the STM32 processor. The lab manual for the course is freely available to download.
The course covers the processor itself and a number of hardware modules including an LCD display, a serial interface, a Wii Nunchuk, an SD card and an audio amplifier. Using these modules will mean looking in some detail at programmed I/O, as well as common protocols such as asynchronous serial, SPI, and I2C; A/D based sensors, interrupts, and DMA.
STM32 development hardware
All this is done using a variety of off-the shelf modules and a STM32 Discovery board for the processor. This means that you are pretty free to mix and match to suit your needs. Much better than being trapped into a complex development board. They often have a bunch of peripherals you don't want, connected to awkward pins.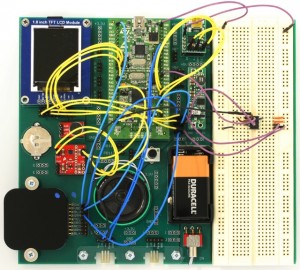 The compiler assembler and linker are examined. The manual gives instruction in setting these up and how to configure them to compile and download programs to the processor. Hardware debugging is described with the GDB debugger while code is developed in C.
STM32 Lab manual
After a bit of a browse through the book, I was hooked. I will try out some of the examples as soon as I can get the hardware. This is a very useful guide and reference for anyone wanting to develop their skills in embedded programming, C and the STM32 processor.
Here is a chapter list to whet your appetite:
1 Getting Started 13
2 Introduction to the STM32 F1
3 Skeleton Program
4 STM32 Configuration
5 Asynchronous Serial Communication
6 SPI
7 SPI : LCD Display 97
8 SD Memory Cards
9 I2C – Wii Nunchuk
10 Timers
11 Interrupts
12 DMA: Direct Memory Access
13 DAC : Digital Analog Converter
14 ADC : Analog Digital Converter
15 NewLib
16 Real-Time Operating Systems
17 Next Steps
Links: