For years Michael Backus taught students to build and program LEGO robots at the Alaska Summer Research Academy. He eventually began taking students on field trips to look at Steven Kibler's micromouse. As a computer engineering student, Steven explained that in order to build and program a micromouse students need to take several engineering and computer science classes. Naturally, Michael went home and began work on a LEGO robot capable of solving a maze. Unfortunately, it could not fit in a micromouse maze and was needlessly expensive.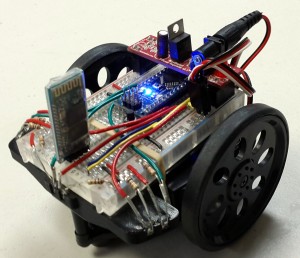 For this reason, he has spent over a year tinkering with Arduinos and working out the kinks on a simple micromouse design. He also created a free online course to explain how to build and program the robot. No prior knowledge of programming or electronics is necessary, and the materials cost about $100 plus shipping. Every design decision was made with education in mind. For example, a breadboard is used instead of a printed circuit board so that students can wire and rewire their robot and see each electrical connection.
To view Michael's free online course, visit http://www.udemy.com/nanomouse. To contact Michael, visit his webpage at http://akrobotnerd.com/ and click on Contact Me.