The final day of the 2012 All Japan Micromouse Contest was exactly that. The three principal contests each had their finals event. Classic micromouse, half-size micromouse and line follower robot builders eagerly awaited the outcome of the big event.
The walk over to Shibaura Institute was very pleasant. Having failed to make the final, I could approach the day as an observer without a care in the world and was really looking forward to it. Dave, I am sure, was also as excited as me. He had a mouse, MITEE13, to run in the classic contest. Because I stopped off at the convenience store for some water, I was a little confused to find that the elevator would not go to the floor where we had the pits area on the Saturday. Everyone, it seemed, had been moved into the larger lecture room used the day before by the freshman entries.
No sooner had I dumped my bag than it was time to go down for the start of the line follower contest. The days events would run sequentially with the classic micromouse next and the half-size micromouse last.
Line Follower Final
As the spectators gathered round, it was immediately apparent that this year's line follower track would be a bit different. The venue was a long, narrow room and the designer clearly intended to make best use of it.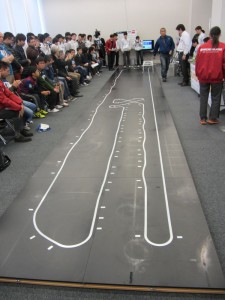 It is difficult to give a clear idea of the scale here but I estimated that the length of the track was between 40 and 50 meters (a little over 40m as it turned out). Barely visible at the far end is a series of tight bends. The wandering line down the left hand side looked ideal for testing the intelligence of the robots. The rules say that the line must be covered by some part of the robot at all times. This means that a robot with smart enough software should be able to go down that whole section in a straight line. In the end, as far as I recall, none did. Each robot saw it as a series of bends. Still, it drew many appreciative sounds from the assembled spectators as each robot made its way down the track.
Each mouse has only three runs and three minutes to get the best possible time around the track. Generally, that means one slow run and two attempts at faster runs. The rules are harsh but make for a good contest. What was immediately impressive was the speed at which many chose to perform their first run. The fastest robot on the first run managed it in 20.118 seconds and never went any quicker. This was really impressive. Only four robots managed a faster time in the whole contest and yet this was a first, cautious run with no knowledge of the track. By contrast, the eventual winner took 42.882 seconds on its first run.
The runners in the final had all been sequestered in a waiting area at the far corner of the room and I was unable to get photos of them. The different approaches taken by the robots was surprising, as was the variety in construction. Notably, the first half-dozen or so finalists were driven by stepper motors – usually overlooked as heavy and inefficient.
As robots ran and failed, I could not help but be amused by the sound effects used by the scoring system. Various burbling noises were used to indicate the passage of a robot through the start and finish gate but, of course, robots crash and the current run had to be abandoned. The organisers had decided to indicate that with the sound of a mooing cow. In my head at least, robots soon became categorised as having made a no-cow, one-cow, two-cow or three-cow run. No cows being best of course. I won't embarrass owners with their individual cow scores.
By the time we got up to the last four runners, the best time had been set by a Korean robot called PassioniDosa. It managed to get around in 18.134 seconds in its third run. This was only  two seconds faster than an earlier robot that did its run without a look at the track and which still held second place. I confess that I was a bit disappointed not to be seeing huge improvements by now. The long, shallow curves had clearly caught out pretty well all the robots.
The next robot to run, Skull 2.2, from Lunghua University, Taiwan, improved the best run time to 17.333 seconds giving them first place. Village Stone, a Japanese entry, came next but failed to get in a fast run and we were left with the anticipated champion Hirai-san and the team of Chao Shi-Wei and Lin Sheng-Hung, from Lunghua. Their robot, Li-Zai, did a heart breakingly slow first learning run. At 42.882 seconds it did not look good for them. In fact, this was the slowest run completed by any robot in the line follower final. Still, they cleaned up the tyres, altered whatever settings they had and went for a speed run. What a transformation. Their fast time was just 14.813 seconds and they went straight into the lead. They failed to make a third run but, whatever happened, they were already guaranteed at least second place.
Now it was all up to Hirai-san and his robot, Cartis03. For some time now, Cartis03 has looked unbeatable. It is fantastically well-engineered and apparently very reliable. It set off for its exploratory run and put in a respectable time of 21.458 seconds. There was the ritual cleaning of tyres and changing of settings and Cartis03 made its second run. 16.416 seconds. Now lying in second place, everyone wondered if Hirai-san had enough left in the tank to beat the Taiwanese team. At this stage, the robot builder may have no choice, having only fixed settings. Often though, they can change some setting or other and decide just how fast to go. Hirai-san was in a bit of a fix. How much faster did he need to go? Too fast and he would crash, guaranteeing failure. Too slow and would not beat them. He made his choice and let Cartis03 loose for its last run. The spectators were torn between watching the robot and watching the clock. This was a faster run but… at 15.463 seconds, not fast enough. Lunghua University had managed to beat the local favourite and ended up with first and third places.
With a busy schedule for the day, there was no pause. Everyone went straight over to the next event which started almost immediately.
Classic Micromouse
This is where it all began. The classic micromouse contest has run for more than thirty years. Somehow, it continues to challenge and to bring fresh surprises and new champions. A simple looking contest, it holds plenty of subtleties and opportunities. Including the four seeded entrants, there were 29 runners in the final. Most were from Japan, as you would expect, but there were four entries from Lunghua University, Taiwan, two entries from the Institute of Technical Education, Singapore, one from Southern Taiwan University of Technology, one from Dankook University, Korea and one from MIT in the United States. Clearly, there should have been one from South Staffordshire College in the UK. Perhaps next year 🙂
With everyone in place, the contest maze was revealed.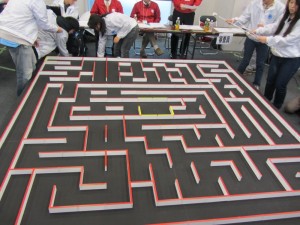 You should note that, not only did I fail to get the corners into the picture, there must have been some errors because this is not quite the maze that got run. Looking at photos and snatches of video after I got home, I am pretty sure I worked out what the actual contest maze looked like.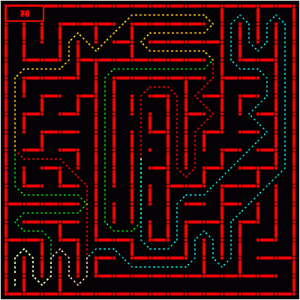 As to be expected, there were several reasonable paths through the maze of manhattan length  76-80 cells. This was a bit longer than most and much longer than last year's unusually short maze. The real surprise here though was seeing two entries to the goal area. I don't recall seeing that in Japan before but I believe it has been done.
The contest quickly got under way and, by the time we were half way up the running order, fastest times had gotten down to around the ten second mark. In this group was Morinaga-san's MF2012SP. While not the fastest runner overall, he did manage a significant achievement by getting in four runs, completely autonomously, with a best run time of 10.745 seconds. By autonomously here, we mean without being touched or removed from the maze. Why is this an achievement? Well, the one thing that binds all micromouse builders is a pathological fear of dust. Before the contest starts a small army goes over every section with adhesive lint rollers on sticks. At every opportunity, the mouse builder will clean the mouse tyres of any trace of contaminant. These tyres are sticky, like any racing tyre, and they pick up any dust from the mouse floor. Left alone, they get worse and worse until it is like running on felt slippers. All the mice at this level of performance are likely to be drifting around corners even with clean tyres. So, to run four times with a better score on each run, with tyres that are getting steadily more useless is pretty good.
A little further up the running order was Turtle32F from Lunghua university. It astounded everyone by doing its search run in 16.256 seconds. During the search, the mouse knows nothing about the maze and has to learn as it goes around. Clearly, you don't want to get carried away. It is just like driving your car in fog. Only two other mice made search runs in less than 20 seconds and Turtle32F outclassed them both by some margin. Its reliability was excellent and it posted a final best time of 9.764. It was the first mouse to get a time of less than 10 seconds. It might be me but it looked as if the turns did not get much faster and that most of the improvement was in the straights.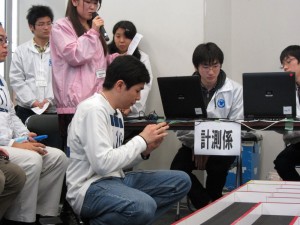 Generally, the running order in the finals is in order of merit with the fastest mice running last to build up the tension. For some reason, however, Kato-san ran his mouse, Tetra, 16th in the running order. Tetra's past performance has been spectacular and today, it did not let us down. After a small issues and a crash on its first speed run, by the time it finished, Tetra had managed a time of 6.181 seconds. If you don't know, trust me when I tell you that is very fast. With 22 more mice to run, there were plenty of possibilities for a better time but could anyone get even close?
Shortly after Tetra was Shunsuke Sakura with his mouse, さくらねずみ5 (SakuraNezumi5 = Sakura's Mouse 5. Thanks to Kato-san). Things did not, however go well. Remember, there are only five runs allowed in this contest and this mouse crashed out on the first three. Somehow, it managed to keep enough information so that, upon starting its fourth run, it knew how to find the goal and immediately posted a time of 7.042 seconds. It did one more run and got the time down to 6.645 seconds. We now had a first and second place, both with times under 7 seconds and with some of the top performers in qualifying still to run.
It took until the 24th runner before we got another time under 7 seconds. This was from TPK, another entry from Lunghua University, run by Fu Chuan-Sian and Syu Jheng-Yan. They had a reliable mouse that got in 5 good runs. Their best however, was their third run with a time of 6.729 seconds leaving them in third place.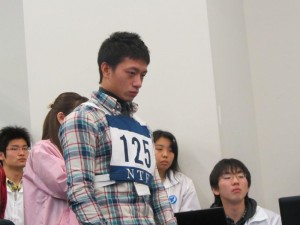 Next up was Hung Chung Huan from the Institute of Technical Education, Singapore. His mouse, Hulk-2, had a sticky moment on its first speed run but finished in style with a last run of 7.037 seconds putting him into fourth place.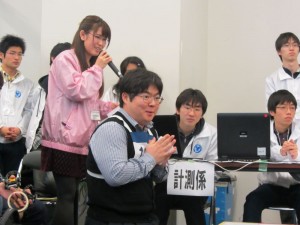 Tushi2 from Southern Taiwan University ran next and ended with a time of 7.202 seconds but was just edged out of fourth place by Nakajima-san's new mouse Yukikaze5. Nakajima-san has a long and excellent record in micromouse with many interesting designs. This mouse – incredibly – was only actually put together about two weeks before the contest. How he could do that and get a place in the finals is astonishing. It takes a lot of work to get a new mouse running at all, never mind running well.
Only two mice remained. First came another Lunghua University entry – Chao Shih-Wei's Wa-tiu. The search run was followed by three crashed runs and things were not looking too god. On its last chance though, Wa-Tiu just managed a 7.302 second run putting it in eighth place.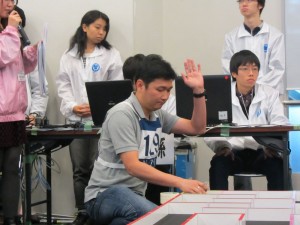 All eyes were now on the favourite, Excel-8b by Khiew Tzong Yong of the Institute of Technical Education, Singapore. After its first search, Excel-8b crashed and had to restart its search again, costing it a run. The second search went well though and the next two speed runs brought the time down to 7.850 seconds – enough for 11th place. Khiew Tzong Yong was now in the exact same predicament that had been Hirai-san's earlier in the day. With one run left, how hard should he push and could he nearly two seconds off the run time on his last available run? Well, whatever he did, it sadly failed and Excel-8b crashed out before reaching the goal.
Once again then Kato-san's Tetra was triumphant and nearly half a second faster than its nearest rival. Notably, Lunghua University had a mouse in third place and three of their entries finished in the top ten. Whatever they are doing in Lunghua, they are certainly turning out some quality mice.
By this time it was way past my lunch time and, although the organisers pressed on with the half-size contest, I had to go and get something to eat. I am slightly ashamed to say that I gave in to the urgency of getting back to the contest and went again to McDonalds. This was not turning out to be the Japanese gastronomic experience I had envisioned while on the plane flying out. But I was hungry and in a hurry. How else do you think McDonalds became popular? It certainly was not for their epicurean delights. Anyway on to the final event…
Half Size Micromouse
The half-size contest is only a few years old but has become very popular with some remarkable mice running. Pretty well every innovation in classic micromouse has found its way into the half-size contest so here you will find traditional two-wheel mice, the more popular four-wheel style and even a perfect miniature of the six wheel design that some builders experimented with a few years back.
By the time we had finished stuffing burger and fries down our neck, the more hardy spectators had managed to get all the decent vantage points and the event was under way. Fortunately, some kind soul had set up a projector so that we could see the video feed from an overhead camera. This was not HD but adequate to keep track of what was going on. Well, mostly.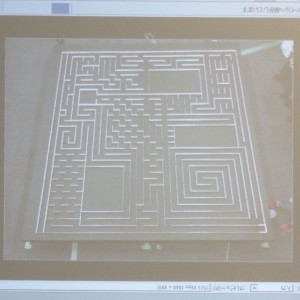 The list of entries was much shorter for this event but each one had more time owing to the size of the much larger maze. Although everything else was half size, the maze area was the same so the mice had up to four times as many cells to search. You can see from the screen shot that this was a big, challenging maze with a particularly awkward double spiral to run. The start is bottom right and the goal is the smaller of the squares in the top left. Pretty well nothing about this maze was easy. After watching this event over the last few years, it only dawned on me this year that the large empty areas were not there because they had run out of walls but to allow competitors to lean in and recover crashed mice. I can be a bit dense at times.
Here is the actual maze in full, taken from the NTF website here.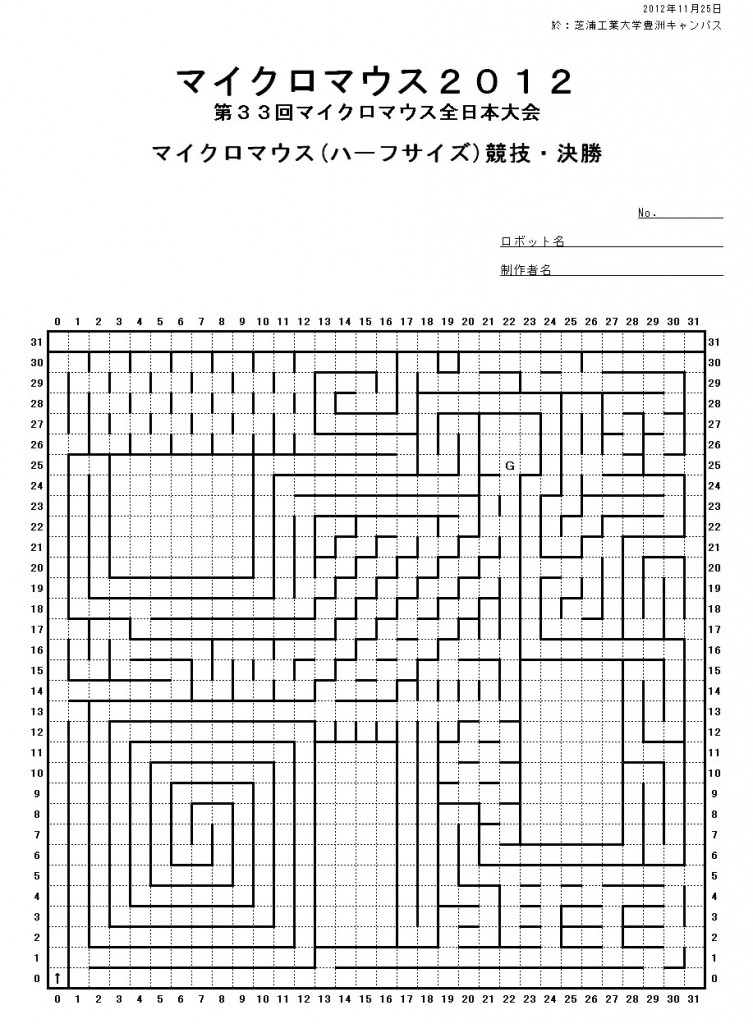 My recollection of the early stages is a bit shaky. From our seating position on the floor,we could not see the name of the mouse running or its times. When the contest got down to the last few, however, we stirred ourselves and got up for a proper look. There were fifteen entries and I joined the action at number 12, Mini Blue by Liu Xue-Lin of Southern Taiwan University. By this time the leaderboard was headed by Hirokazu Kojima's mouse Kojimouse 7. I am not sure if any work had been done since last year but he managed what looked to be an excellent time of 11.719 seconds, placing him nearly three seconds ahead of second place mouse, Mg.
Mini Blue managed to get itself up into fourth place behind a mouse whose name did not appear on my qualification list so please accept my apologies for being unable to describe it here. The next to run was Batman. This very tidy little mouse was built by Hung Chung Yuan at the Institute of Technical Education in Singapore. He is, I believe a student of Khiew Tzong Yong who tells me that Batman can go faster than his own Excel:mini-3. Whether it was faster or not, it gave a best time of 13.931 seconds and a solid second place, a little over two seconds behind the leader and nearly two seconds ahead of Mg in third place.
The next to last mouse to run would be Kato-san's Quartet. As ever, great things were expected and Quartet duly impressed by dashing around the maze as required. All that dashing though could not produce a time better than 13.053 seconds. Enough to put him in second place, pushing Batman down to third but still nearly 1.5 seconds slower than Kojimouse7.
The pressure once more was upon Khiew Tzong Yong. He was last to run and had managed an excellent time in the qualifiers. Today was not to be his day though and Excel:mini-3 failed to find the goal and could not post a time at all. So, crashing out can happen to the best of us. Reassuring thought for the rest of us but little consolation for Khiew Tzong Yong.
So – the contest was over. All that remained now was the prize giving. This is always entertaining from the perspective of non-Japanese speakers as, to be honest, we sometimes have absolutely no idea what the prizes might be for. I was told by one non-Japanese entrant that, occasionally, the recipient of the prize can remain in some doubt as well. Meantime I console myself that I would only have to pay excess baggage if I did win something. One day…
Well, we thought it was all over.
Lecture
Turns out there was an extra treat in store for us this year. A lecture was scheduled before the prize giving. I confess to being a little apprehensive about this. What, after all, were we non-Japanese speaking attendees going to get from this?  The speaker was none other than Hirokazu Kojima who gave us an excellent talk about some of the factors needed when building and running a fast mouse. He included a number of things that I had not thought necessary. One of these was the realisation that my gyro may give different results going clockwise and anti-clockwise. That would certainly account for one issue I see and now I know where to look to verify and possibly correct that. Even on a good day, D2D tends to turn a degree or so too far in one direction and a degree or so too little in the other direction.  If I can get them translated and the approval of Kojima-san, I may be able to put up an english version of the slides for this talk.
And so ends another great trip to Japan. What I need now is a great, and successful, trip to Japan.
My thanks to the organisers and sponsors of the 2012 All Japan Micromouse Contest and to the small army of volunteers who made it all run so very smoothly.
Update: the full results and mazes are available from the New Technology Foundation Website