It is bright and sunny in Tsukuba this morning as we make our way to the Capio for the final round of the 31st All Japan Micromouse contest. Three events will be decided today –  Robotracer, half size micromouse and micromouse classic. After last years upset in the final few minutes, all eyes are on Kato to see if he can reclaim the crown for Japan…
The hall looks somewhat different when we enter. Pretty well all of the freshman class contestants from Saturday don't come back to watch on the Sunday. Tsukuba is pretty accessible but it is toward one end of a long country. A large area is set aside for a robot building event for children. The attention is currently focussed on the centre of the hall where sheets cover the Robotracer circuit. This years layout is square but we have no idea what it might be. No doubt the contestants have their fears and hopes based in the strengths and weaknesses of their own entries. They can be be sure only that it will be long, complex and tricky. There is a short opening ceremony and then contestants and spectators gather round for the unveiling of the track.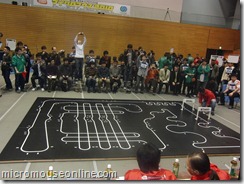 It is hard to say how long the circuit is but last year's was estimated to be 50m and this will most likely be about he same. Several features are going to give the contestants trouble here and the complexity could be an issue. The robots run under very difficult circumstances. The timing regime is harsh. The total time available is 3 minutes and, since a first run at moderate speed to map the features could take 90 seconds, most are lucky to get a single fast run. Any hesitation or delay when setting up the mouse could easily cost you the ability to make a fast run at all. Everybody knows this so it is always surprising to see how long some contestants will take calibrating their sensors, cleaning their tyres and making adjustments between runs. I guess that, if you only expect to make two runs at most then you can plan to have some time. If you want to do three runs though, you cannot afford to waste a second. The qualifying event had 104 entries and the top 32 entries were running in the final.
There is still quite a lot of variation in the design for line followers. Many still use the pattern of very wide bodies, big tyres and steerable sensors. In these machines, the idea is that the line-tracking function is performed by a servo arrangement at the front which can mode the sensor array in an arc to track the line. The drive mechanism is there just to propel the machine forwards – differential drive may be employed or not. More recently, it looks like builders are moving toward a more compact design with fixed sensors.
The course was particularly challenging with a large number of 'events'. That is, placed where the mouse will need to remember changes for a fast run: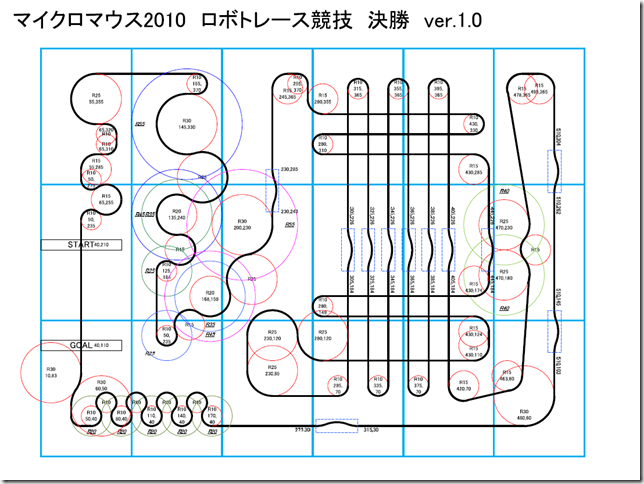 Image taken from http://www.ntf.or.jp/mouse/micromouse2010/2010result_robo-trace_final.html where you can also see the full list of results.
The top three runs in this contest were within 3 seconds of each other with the winner managing a time of 36.55 seconds.  Third place went to a mouse from Lung Hua University in Taiwan. You can see it in the photos above as number 34. There is no small amount of rivalry between Lung Hua and Southern Taiwan University. Both are relative newcomers in the Japan contest and both have produced excellent entries in all their events Although I believe Southern Taiwan University did not enter the robotracer event.
Half size micromouse has developed at an extraordinary pace. When it was introduced a couple of years back, the early entries were somewhat reminiscent of classic micromouse from several years back. This year showed just how far things have come. There were 29 entries in the qualifiers for this event with the faster 9 mice going through to the final. The top five qualifiers all managed times of less than 7 seconds over a path of about 60 cells. The top qualifier – Kato's EggTorte – managed it in 4.647 seconds. In terms of the time taken to traverse a given number of cells, these times would put many a full-size mouse to shame. The curious thing is that, since the maze is half size, the distance covered is half that covered by a full-size mouse. So, you could say that the half-size mice are only half as fast as their big brothers. Trust me though, it does not look like that when they run.
The maze for the finals was much larger overall and took a fair bit of searching. Once they had found their way though, these little mice put on a spectacular show for all assembled.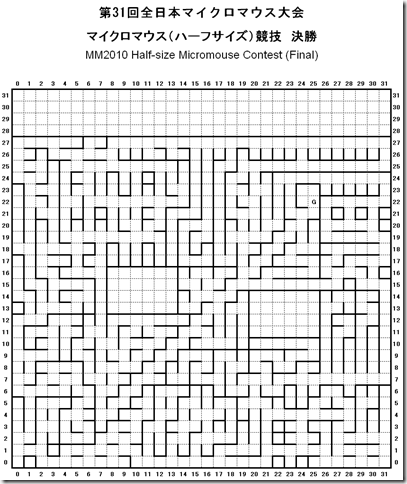 Image taken from http://www.ntf.or.jp/mouse/micromouse2010/2010result_m-halfsize_final.html where the full list of results may be seen.
The most notable feature of this maze was the long diagonal that all the fastest mice had to negotiate. Only six finalists managed a speed run. Min Tushi from Southern Taiwan University came in with an impressive 10.491 second run over the 80 cell route putting him 6 seconds ahead of his nearest rival with four more mice to run. Following Min Tushi was Kojima Thin 6 by Kozima Hirokazu who unfortunately did not manage to complete a speed run. Next up was Excel Mini 2 by Khiew Tzong Yong of the Institute of Technical Education, Singapore. To the delight of everyone except the remaining two competitors, he managed a time of 5.513 seconds. Clearly, the remaining two mice, Ng Beng Kiat's Ning 4.1 and Kato's EggTorte were going to have to manage something extraordinary to beat that. Alas, it proved too much for either entry. Ning 4.1 achieved second place with 6.865 seconds and EggTorte could not do better than 8.373 second for third place. So, it was Singapore with the top two places in the half-size contest and Japan down in third place. Could Japanese homour be restored in the classic contest?
Since the introduction of the half-size contest, there has been a continuing question over the future of what has now become known as the classic micromouse contest. The intention may well have been to phase out the classic contest but, with 75 entries in the expert class and 121 in the freshman class, its popularity seems undiminished. The freshman class was all run on the Saturday with no qualifying phase. For that, it was make or break with no second chance. The expert class runs two parallel qualifying contests on the Saturday with the top 17 going through to the final where they were joined this year by 9 mice which had already gained a place in the final by virtue of having won a regional event. These 26 finalists are generally ranked so that the fastest mouse gets to run last but that seems to lave the judges with a bit of a dilemma when it comes to placing the pre-qualified mice in the running order. Since they have not run the same maze as the weekend qualifiers, they cannot be compared. As a consequence, the hot favourite, Kato's Tetra, was sixth to run.
The maze lacked some of the elegance of previous years – possibly because the usual designer was not responsible this year.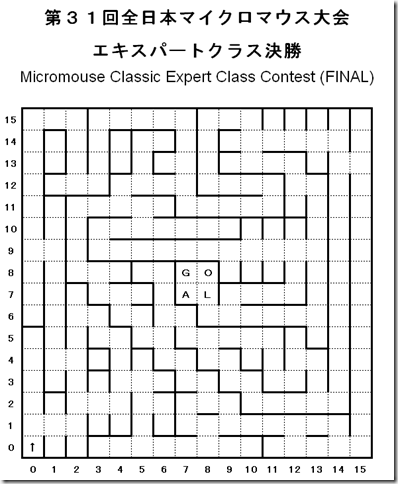 None the less, there was more than enough challenge with a 57 cell path that started with a particularly difficult section where the mouse would have little guidance from the walls. Kato was the sixth entry to run and set a time of 4.694 seconds. At such an early stage a time this good could only serve to dishearten some of the remaining mouse owners. Many of them knew full well that they could not manage anything near that but they had to carry on regardless. When the favourites are still to run, there is not only a growing tension but, at least the feeling that you may get lucky and still be the last one standing. For Kato, it must have been a nerve wracking experience. He had put in an exceptional time and there were still plenty of entries that could beat it waiting to run. We didn't have long to wait before Kato' apparently unassailable time looked a bit threatened. Next up were two fan-assisted mice. The first of these, momoco09, did not manage a fast run but next came Micesweeper by Kazu Akira Utsonomiya. This mouse managed a 4.942 second run putting it into second place. Micesweeper won a prize for the technology in this mouse.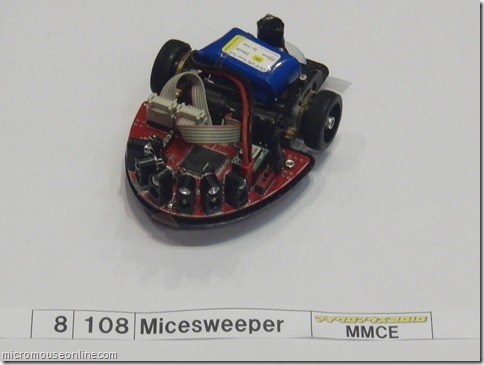 We then had to wait for quite a while for another likely challenger to emerge. That is not to say the other mice were not up to the job but all had some issue that prevented them from getting a competitive time compared to the current leaders. With only four more mice to follow, Khiew Tzong Yong managed a 4.90 second run with Excel 7 putting him into second place and only 0.002 seconds ahead of MiceSweeper!
Kojima Thin ran next but unfortunately only managed a time of 5.933 seconds. When I say 'only', he was still nearly three seconds ahead of the next slowest mouse. Now there were only three mice to run. The next mouse was MP-6 from Southern Taiwan University. An early run of 10.317 seconds left them looking well placed. While it was unlikely that they could approach the leaders, the next mouse to run was from Lung Hua and so they needed a good time to be sure of beating their arch rivals. Unfortunately, they were unable to improve this score after crashing out a couple of times. The way looked clear for Lung Hua to be best of the Taiwan mice with Raccoon. Sadly, it was not to be and Raccoon crashed without managing a speed run at all.
Finally, there was only Ng Beng Kiat to run. His Min7.1 was new for this year and sported four wheels after the style of Tetra. After a speedy search phase, Min7.1 put in a good time on the first speed run of 5.058 seconds. Having three runs left, things were looking promising for Ng Beng Kiat. His next run, however, crashed and the relatively comfortable buffer looked a bit more threatened. The fourth run gained a time of 4.807 seconds and it looked like he might yet be able to get in one more run with a still faster time but it was not so easy. Another crash left him in second place. Finally, after several years, the championship was back with a Japanese mouse. Second and third place went to mice from Singapore but only just. All through the last year, the pressure has been on Kato to fulfil the potential so clearly demonstrated on many occasions and now he had done it.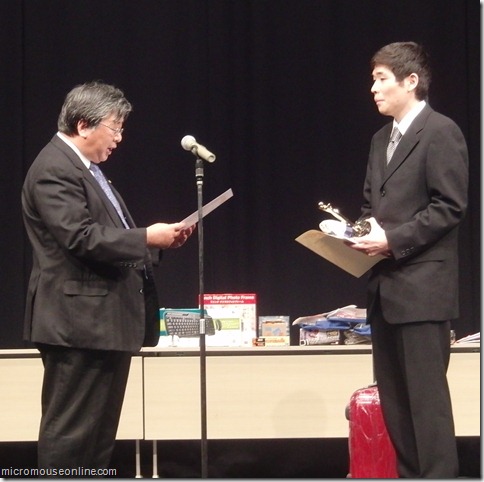 Full results for all the events are available from the New Technology Foundation web site at:
http://www.ntf.or.jp/mouse/micromouse2010/mouse2010_result.html
You can see a larger set of images here:
http://www.flickr.com/photos/helicron/sets/72157625426659543/
Thank you to all those involved in the organisation and staging of this event. It is a fantastic achievement involving huge numbers of people. Long may it last.