Monday was our tourist day. The pressures of the competition were behind us and we could relax a bit while discovering more about Taiwan. The idea was that we would get the non-tourist tour of this part of the island. Taiwan is more than large enough to occupy any tourist for a good amount of time so this was always going to be a bit of a whistle-stop tour. Nonetheless, we got to visit some fascinating places and I would very much like to be able to go back and spend some more time in some of them.
The header picture is Formosa Chang's. This famous restaurant chain, with 29 outlets in Taiwan, was where Suhu took us for our dinner on Saturday evening and an introduction to some typically Taiwanese fast food. It was very fast – some dishes appeared before we had even completely decided what we were going to have. It was all good as well. I have no idea what we ate except for a rather good spicy sausage. Not having the camera handy, I don't have a picture either.
The morning started at a more reasonable hour and this time I managed not to pick a plate of pickles for my breakfast. After breakfast, I took a bit of a walk around the area to get the picture of Formosa Chang's and buy some shaving foam since I had forgotten to bring any and soap just doesn't work as well. This was to be my first shopping attempt but I managed it without any issues. I had also been looking for a memory card reader because, although I now had the camera, my laptop didn't have the right software on it to grab the pictures. Didn't find a card reader but I was suitably impressed by the traffic – particularly the scooters. Watching them at junctions reminded me of shoals of fish swimming around obstacles. There was a constant smooth flow which looked like it was impossible but clearly worked well for them. My guide book said that Taiwanese drivers had 'a well-deserved reputation for fearlessness'. I now understood exactly what the writer meant.
Our host had arranged a busy day for us. Our companions were to be 9 students from Lunghua University. their job was to help us out, and, at lunch, make sure we could sample as wide a range of dishes as possible. In the evening, they were to be responsible for buying food in the night market on our behalf. I must say they did an excellent job all day.
We started off with a visit to the National Palace Museum. This is located just to the North of Taipei in some beautiful scenery.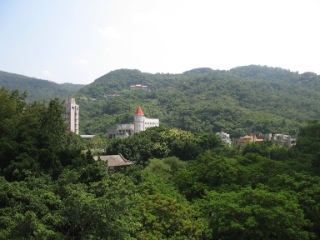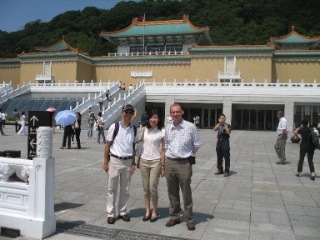 The museum houses a huge collection of treasures moved from mainland China during the last century. There is far too much to describe and it would be easy to spend a day or even two inside. You can find out more here:
http://www.npm.gov.tw/en/home.htm
It was soon time for an early lunch and we made our way to the nearby Taiwanese Food Court to sample a remarkable range of local foods. Our student guides were let loose with the menu and ordered up a huge variety of interesting food for us. We had an excellent lunch that I would recommend to anyone. The photo shows a small fraction of the dishes that came our way.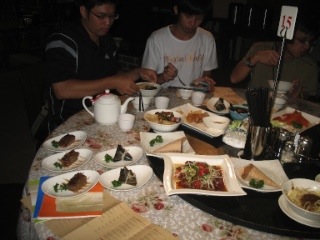 Our next stop was the Tzu Chi Foundation headquarters building. Founded in 1966 by master Cheng Yen, a nun who started with a small group of thirty housewives saving only fifty cents per day, the foundation is now huge is size and scope. In Taiwan alone, it runs six hospitals and has received great praise for its work during the recent typhoon. Tzu Chi is entirely non-profit and will not accept government support in order to maintain its independence. The foundation is extremely effective in its aid, medical, educational and disaster relief operations. there are about 500 professional staff in the headquarters. Almost all of the remaining people involved are unpaid volunteers. Our guide, for example, was a very successful engineer, specialising in fluid dynamics, who freely gave his time during the visit to act as English language guide just for the two English-speaking members of the party.
A slight change in our itinerary took us to the Longshan Temple at Wanhua, Taipei City. Built in 1738, the temple is primarily Buddhist but incorporates other local religions as well. Two of the more popular shrines were those where visitors could pray for good luck in exams and for good fortune in marriage or finding a good partner. Although seriously damaged during World War Two, it has been extensively rebuilt and renovated and is a beautiful example of classical architecture. Unlike large religious buildings in the UK, this was a lively, well used space that had no need to intimidate its visitors into making 'voluntary' donations to see its wonders. Where most churches and cathedrals in the UK are impressive in their scale, this was almost overwhelming in its character.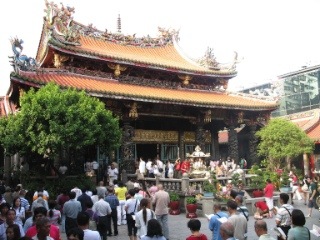 After a brief interlude wandering around in the newly re-developed area near the Taipei 101 building, it was soon time to make our way to the Raohe St. Night Market. Taipei is famous for its night markets. There are a large number of these, each with its own character. The street is lined on each side with stalls of all kinds selling everything from clothing to household goods but mostly food. It was still quite early but everything seemed pretty busy nevertheless. I had been looking forward to this all day but had overdone lunch and, while hungry, I certainly could not indulge in everything that took my eye. We only had to express an interest and someone shot off and bought the item for us to try. I had several items – all good, but could not say what they all were. Except the spicy sausage. I have developed a taste for those. One food item in particular was our goal this evening. Described as one of the strangest foods there is we eventually managed to track it down. The name, I am told, sounds like ice cream and it comes on a wooden stick, looking for all the world like an ice cream. Until you try it. Compose largely of pigs blood and rice and coated in crushed peanut (I think), it has all the appetising texture of modelling clay and a flavour that, I am afraid, is little better. Our host make a show of taking a large bite but I notice he didn't finish his any more than the rest of us. Like so many experiences in the city, I could have happily spent a lot more time in the night market but, all too soon, we had to return to the hotel. It was not terribly late but we were all pretty tired.