The time had come. Get on a plane fly east to see what the the world's best micromouse builders can produce. It is not all micromouse of course – there are line followers and autonomous metropolitan robots – all sorts of things. This year, I must pay more attention to some of the other contests. It is a fair trip. Door to door was about 22 hours and if you include the time before it is possible to check in to the hotel, it comes to an even 24 hours. Arrival in Tsukuba was at 12:15….
It is probably sensible to take a later flight and arrive in the evening but, flying east is an overnight flight whatever you do so it seems to me you might as well at least arrange to get a half day at the destination end and maximise the opportunities for the whole tourist thing.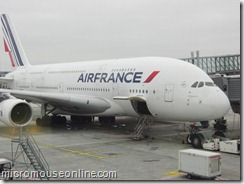 The main part of the journey was on a new Airbus A380. This is a big plane. Really big. While the seats are only a little wider than normal, and the legroom is pretty standard, the window seats are interesting in that the fuselage is at its widest point along the lower deck. The effect of this is to give you about another 20cm of free space between the seat and the window. No good if you like to lean against the window for a bit of a sleep but it makes it all seem very spacious. The flight was AF276 Paris to Narita and it was not overfull. Many found the opportunity to stretch out across three seats. There was another passenger in my row but, with nobody sat next to you, there is plenty of opportunity to move around in search of comfort.
Narita customs and immigration were very quick and efficient – helped by being at the front of the aircraft and among the first half-dozen off. From Narita to Tsukuba is about a 90 minute bus ride. Tickets are purchased from the Keisei line desk in the arrivals lobby and the staff there will tell you the times and bus stop number. You cannot buy return tickets – they are valid only for a specific journey so, if your return journey means an early departure from Tsukuba, remember to get a ticket in plenty of time. It is also not possible to pay on the bus I believe. While waiting inside the terminal for the bus, I was asked for my papers by the police. This happened last year and then as now, I seemed to be the only one asked. I should like to know why. There are not many western faces to be seen in much of Japan so I guess we stand out a bit. Once safely in Tsukuba, I dropped my bags at the Daiwa Roynet Hotel and it was time for lunch.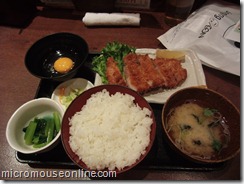 This was from a random restaurant in the Qt shopping centre at the rear of the hotel. Only about £7 and very tasty. Not being entirely sure what to do with the raw egg, I had to try and watch the girl two seats away to see what she did with hers, all the time hoping I didn't look like I paying improper attention. Whisk it up with some soy sauce and stir it into the rice is what I ended up doing.
While waiting for the hotel to let me check in, I did a little shopping and wandered over to have a look at the afternoon session of the Tsukuba Real World Robot Challenge. For this, teams have to enter an autonomous robot capable of navigating a course around a park and the through the pedestrian areas of Tsukuba, finishing their 1.1km journey inside a building. The session I saw seemed to be a practice and the actual event takes place on the Friday. There is a great deal of variation in the devices entered with some looking very professions and others looking like a toolbox mounted on a RC car chassis. In fact that is exactly what one of them was.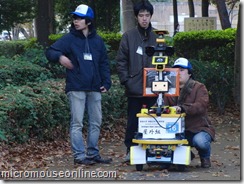 The robot pictured above motored serenely into the goal and looked, to me at least, to be a very smooth operator. Finally, I got to check in to the hotel, shower, get a hot drink and lie down for a while. In the early evening, David Otten and Harjit Singh from the USA arrived and, after a bit of catching-up chat, we went for a walk around to try and ensure that we would be tired enough to sleep through until breakfast. That shouldn't be a problem for me as I have been up now for about 31 hours but it is annoying to wake up at 3 in the morning, still over tired but unable to get to sleep.
Tomorrow is practice day at the Capio and we shall get our first look at the new season's mice. Can't wait!