The All Japan Micromouse contest 2012 took place at the Shibaura Institute of Technology, Toyosu campus over the weekend of 23-25 November. This was a different venue to recent years an, although unfamiliar, it all worked out all right in the end.
We were advised that, if possible, flying into Haneda airport would be a better option if at all possible since the journey from Haneda to our hotel was easier. For me, this was not a choice so I took a KLM flight to Narita, arriving on the Thursday. By chance, the KLM in-flight magazine appeared to know exactly where I was going: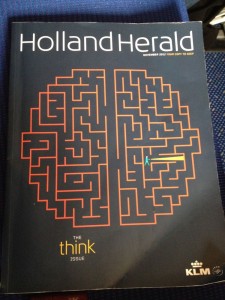 The hotel was conveniently located on the Hibiya line close to Tsukiji station. I have to thank whoever chose the hotel for their forethought and consideration. From Narita, the Skyliner takes you to Ueno in about 40 minutes. A short walk takes you to the Ueno station on the Hibiya line and, from there, it is only 10-15 minutes to Tsukiji. For extra convenience, the Hibiya line stops at Akihabara so that you can easily satisfy your inner geek with a wander around one of the most well known of shopping areas for the technologically inclined.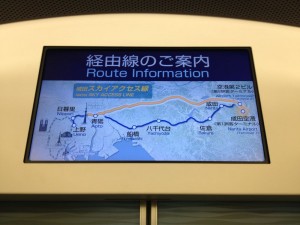 I arrived at the hotel – the Ginza Capital Hotel – at about 12 noon having landed at 10:00. Not too bad. The hotel did not allow check-in until 3pm so that left me with some time to have a wander about, tired though I was. Although there were plenty of choices, I decided to go and find the contest venue and work out if it was a walkable distance or needed the train to get to and from. After a couple of detours down interesting looking side streets, I managed to find the Shibaura institute of Technology Campus. The whole area appears quite new and evidently sits on reclaimed land. There are helpful maps scattered around with names in Japanese and English so, as long as you have a basic idea of where you are going, it is not too hard to find your way around. Note that all such maps are oriented in the direction you are looking rather gthan having North at the top.
There are a couple of convenience stores and places to eat near to the institute so that takes care of the necessities. Unusually, I could not find vending machines inside the building so remember to take at least a drink in with you. Just across the street (Harumi-dori), to the west, is a large shopping centre – the Urban Dock LaLaPort, Toyo- with several restaurants and plenty of other high-end outlets. Also in there is a branch of the famous Tokyu Hands store. This relatively small branch still manages to stock an incredible variety of goods from rice steamers to laboratory equipment. I was keen to visit as this is the place to get the adhesive-backed, low-friction pads so commonly seen used as skids on Japanese micromouse designs.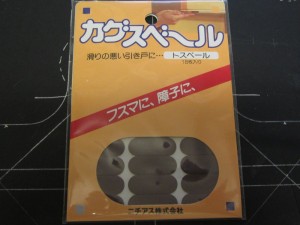 They really are excellent with a very good adhesive and are made of a material that is somewhat malleable so that it can be shaped to suit your mouse.
With those basics taken care of, it was back to the hotel. This time by a more direct route. The walk took about 40 minutes and gave some great views of this area of Tokyo.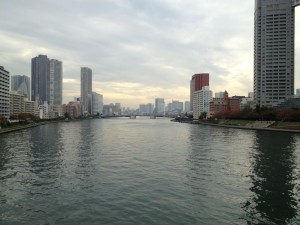 The rooms are tiny. According to their web site, the floor area is 9.8 square metres. According to my visual impression, the single bed would not have fitted in if it were the other way round and you don't have to worry about forgetting your towel when you get in the shower because, wherever you left it in the bathroom, it is still within reach. By the time the various junk that I carry had been scattered about, there was not a lot of spare room.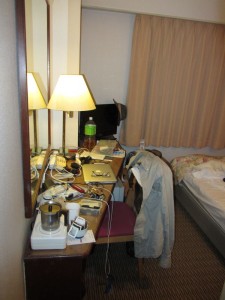 Dave Otten arrived later that afternoon and we set out for dinner at a South Indian Restaurant nearby. It was nearby but an error in navigation gave us an unexpected tour of some local places of interest before we eventually found our way. Worth the effort though as it served some food that, although familiar to Dave, I had never even heard of. Now fed and fully tired, it was time for an attempt to sleep (which rarely works on these trips) ready for practice day on the Friday.