This year marked the 35th All Japan Micromouse contest and my sixth visit to Japan. My hopes were high following some small success at earlier events this year but, in Japan, the competition is stiff.
The journey out was quite reasonable, as these things go. I had reasonable space and nobody between me and the aisle. Arrival was at 09:30 on a wet Thursday morning and the hotel was way the other side of Tokyo in Atsugi. There is an express bus that goes straight to Atsugi but, since I would not be able to check in to the hotel anyway, I decided to make the ritual trip to Akihabara during the day and then travel out to Atsugi later. Getting around is surprisingly easy in Japan since it is common for place names to be written in English script and the trains generally announce the stops in both Japanese and English.
It was actually cheaper to travel via Akihabara that to take  the express bus. I think the total train fare was about 2000 Yen while the bus fare was 3600 Yen. Add in another 600 Yen for putting my bags in storage at Akihabara station and I was still up on the deal.
There are some changes around the Akihabara area. Some new buildings have iopened and the old electronics stores under the railway show more signs of slow decay. There seem to be fewer open and some that I recall seeing before are no longer there. New though was the RT store with some interesting robot parts so that was good. As usual, I managed to find a couple of places I had forgotten the location of, and lost some places I thought I knew the location of. I also found a couple of places I had not been in before but I am not at all sure I could find them again.
By the time I was ready to go on to Atsugi, I was pretty tired. Akihabara is interesting for another reason. It is one place in Tokyo where you can be sure of seeing lots of non-Japanese people. None of them really acknowledge each other and it is not at all clear they would be able to understand each other if they tried. Instead, the westerners glide by each other with no more than an occasional furtive look. I mention all this because, in the one station most likely to have English speaking (or reading) visitors, there are no English names on the railway map. As a result it took ages to work out how to get a train to Atsugi. Only after some kind soul took pity on me and offered assistance was I able to get it sorted out.
Having made my way onto the train, I checked with a couple of passengers to be sure I was on the right train.  I have got this wrong in England so prefer to take no chances. Someone told me I was on the local train and that I would save a lot of time by taking the later express train. So I got off. Then, too tired to mess about waiting for the express train without knowing how to tell if it was the express, I got back on. Further down of course to save any odd looks from my recent acquaintance.
Another time, I need to take advice and wait for the express. The journey took 30 minutes longer on the local – there were a total of 34 stops. About half way, we stopped at one station and nearly everyone got off. I started to worry that I had missed a terminus or an essential change. The feeling was not helped by the observation that all the passengers that got off went to another train on the next platform. By the time I had worked it out, it was too late. The doors closed and off we set. What had happened was that the express train caught us up at that station and everyone switched to that train. They probably all arrived in Atsugi about 15 minutes before I did. Lesson learned.
The hotel was easy to find and I was certainly glad to be there. Steady rain was falling and I was tired enough to sleep standing up.
Too soon for rest though. The hotel room was modest but comfortable – certainly more so than some. There was, however, a distinct lack of tea and coffee. Presumably, the presence of a vending machine right opposite was supposed to make up for single teabag that had been left for my refreshment. One of the nice things about Japanese towns is that you are almost certainly no more than a few minutes walk from a convenience store. These wonderful places always seem to be open and have a remarkable range of goods and services in a small space. There are so many of them it is a wonder they can all stay in business. In any case, they are life savers so I set out for supplies. Coffee, sugar and snacks in case I ended up, as usual, awake most of the night and hungry. While there, I also bought an umbrella for about £2.50. The steady rain made it fairly essential.
Having sorted that out, I waited for the arrival of Dave Otten who was due fairly soon. Dave duly knocked on the door and out we went for a wander about. He had eaten on the plane but I had had little all day so a restaurant was needed. Earlier I had looked for, and found, the hotel where Khiew Tzong Yong was staying so we went down there to get him out and found a restaurant/cafe for a light meal and a chat.
It can be hard enough working out how to order food at home sometimes and each new place in Japan was another small puzzle. This one had a clever radio pager device on the table and we discovered that you had to press the button when you were ready to order. A chime then sounded and a notice board at one end of the room lit up with your table number so that a waitress could come and take the order. Clever but different. The food was fine though so I may go back if I return to Atsugi next year.
Nearby was a Starbucks. Normally, I would avoid them on principle but they are a reliable source of coffee and I do like my coffee so I ordered a large Americano to take back to the hotel. Arrangements were made to meet up in the morning to make our way out to the contest venue.
Practice Day
Friday is practice day. It is not possible to get into the venue normally until after lunch. None of us were too clear on how to get there but we had been given a bus number and a bus stop number so part of the morning was taken up working out exactly which bus to take and where from. That was not too hard to work out. Tzong Yong went one better and, by the time we met to go to the contest venue, he had also worked out how to pay. On entry to the bus, passengers without a travel card take a ticket from a machine by the door. The middle door is for getting on, the front door is for getting off. As the journey proceeds, a display screen at the front of the bus tells you what the fare will be based on the stop number where you got on. That number is clearly written on the ticket. So, by the time you have to get off the bus, you should know what the fare will be. At the front by the driver is a machine into which you can simply dump your ticket and the correct change and you are done. There is also a change machine in case you do not have the right money. There was a small anxiety as we all sat on the bus wondering if we were at the correct stop at the end of the journey. All the other passengers seemed to be getting off which indicated that we were at the end. It would have been more clear except for one passenger who was not moving. Eventually, we decided to leave anyway and it was immediately apparent that we were indeed at the end of the route. The one remaining passenger got off soon after us looking a bit sheepish. Turns out he had lost track and not realised which stop he was at.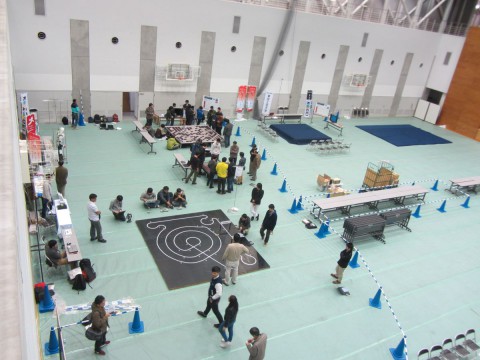 The venue itself was excellent. The contests were to be held in a large sports hall with plenty of space and a couple of practice mazes while the pits area was two floors below with an equally large space set out with plenty of tables and lots of available power. This was the best venue since Tsukuba. on campus and a short distance way was the University refectory and, above that, a large shop selling everything a student (or robot contestant) might need. We were well provided for and everything was very well organised.
For me practice went pretty well with no major problems once the calibration was done. There was a lot more standing in line than was strictly necessary since the large practice maze had not been sub-divided. That was fine unless, like me, you waited ten minutes for your go and only then realised the batteries were dead.
Everything seemed just fine with the mouse. Until it started to do something quite new. While performing a further search, after finding the goal, it began to just run back and forth between two adjacent cells. It had a solution but my newly written optimising search clearly had a bit of a problem. It turned out (much later) to be caused by a poor decision about when the best path was found. The paths calculated depended on which direction the mouse was running – to or from the goal – and they gave different answers so it went into a frenzy of indecision. I hacked through that by telling it that, after four such reversals, it should just consider the job done and go back to the start for some speed runs. The other people watching found this behaviour amusing. For my part, it was a bit alarming.
Reasonably confident now that the mouse would do its job without too much embarrassment, I stopped work for the day. As far as I recall, everyone else was also quite happy with the day's work so we returned to the hotel and went out for a traditional Indian meal. I know. We are in Japan but that is what we do. The restaurant I had found was only around the corner from our hotel and it turned out to be just fine. It even had a selection of South Indian foods like Idli and Dosa so Dave was more than happy. The food was OK if not terribly special and I would go back without great reluctance.
Qualifying
On Saturday, the contest begins in earnest. All the freshman classes are run – right through to the finals – and the expert class qualifiers are also run.
As on previous occasions, the expert class qualifiers were split into two groups of about 30 mice and run in parallel so it was not possible to see all the entries run. That is probably just as well as it turns out since there is just too much to watch and relatively little access for the viewers.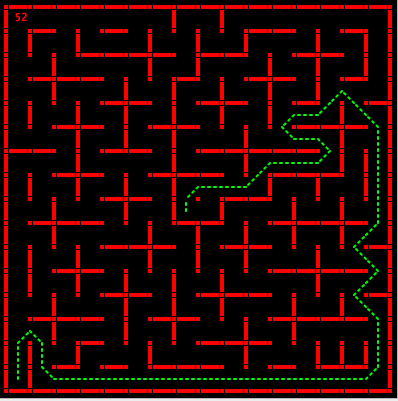 My qualifying run went reasonably well. The maze was unusually open with many paths possible. the solver that I had implemented earlier in the year is not terribly good at finding optimal paths and so Decimus 4C took a less than ideal route. It did manage to find a condition that caused the upsetting back and forth motion that caught me out the day before but the hack that forced continuance meant that the run completed successfully. Just for a moment though, the audience thought it was all over. My final run time was quite acceptable at 5.966 seconds and I qualified in tenth position. I was even ahead of Ng Beng Kiat although, to be fair, he had a poor experience and only managed his slowest speed run and was only 40ms slower than my fastest. The lead mouse managed 4.126 seconds so there was a fair bit of catching up to do if my position was to improve. Of the nine mice that ran faster than mine, four came from Lunghua University in Taiwan.
Finals
The running order for finals day consisted of the 10 local seeds and 20 mice from the qualifying event to give a total of 30 mice in the expert class. Seeding means that mice that have won or performed well in one of the regional events prior to the contest gain an automatic entry to the final. It is worth remembering that the contest is called the All Japan contest because it is the one where mice from all over Japan come to compete. There are lots of regional events and groups throughout the year. The finalist run in reverse order of merit and I was set to run 12th giving me a rank order of 19th overall. Naturally, all of the seeds were placed higher up the order. It is not at all clear how the seeds are placed in the running order but they all went in a block just before the top two qualifiers.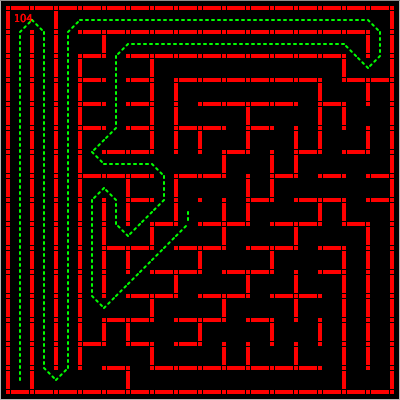 The finals maze was interesting and a little unusual in that it consisted of several long straights and not too many choices. The lack of choices suited the inefficient solver in Decimus 4C but the long straights were a little disappointing. My top speed is only about 2.7m/s while the top mice can manage around 4 m/s. On this maze, I estimate that this speed difference would make my run time about 1 second longer just from the four long straights. Time to get some faster motors I think. Overall, I finished 13th. Not too unhappy with that given the maze configuration but I still need to get my average speed up by about 50% to get into the top five.
In the end, we were all outclassed by Utsonomiya-san's vacuum mouse. He has been working on this for some time and, in the lead up to every contest, he posts some impressive looking practice videos. In the contest itself however, he always seems to overcook it and crash out. This year was different and Utsonomiya posted a winning time that was 6.574 seconds – more than half a second faster than the next placed mouse. Even if I had not forgotten to charge my camera batteries, it was way to fast for me to take a video. I predict a resurgence of interest in vacuum mice.
Decimus 4C has a pretty fast search and it managed to find the goal in only 34.764 seconds. I was pretty pleased with that and became even more smug as each successive mouse failed to manage a faster first run. This happy state of affairs lasted right up until the second-to-last mouse to run. Diu-Gow – a Taiwanese mouse – managed to find the goal in about 34.2 seconds. there is no prize for fastest first run and it is a bit of a lottery depending on maze configuration but I was still pretty pleased with having the second fastest search run.
At the time of writing, the official results have not yet been published so you will have to make do with photos of the scoresheets:
The journey home was pretty uneventful except to note that I was seated near a young accountant from Poland. She was returning from a two week tour of Japan and this was her first trip abroad. Why was this remarkable? Well, she claimed to have taught herself both Japanese and English by watching TV and videos. I was suitably humbled.
May I offer my thanks to all the people involved in the organisation and running of the 2014 All Japan micromouse contest. The organisation was wonderful.
Finally, a personal thanks to Arthur who proved such a great help whenever I had a question as he speaks excellent English and was frequently the first person we contacted when we wanted to ask anyone a question. His help and enthusiasm made a huge difference. I just hope that we did not impose too greatly on his time.