The 2009 All Japan Micromouse contest was held during the weekend of November 21-23 in Tsukuba. I was very fortunate in being able to attend and compete with some of the best mice in the world. This event was combined with the Robotrace line follower contest and the Microclipper event. In case that was not enough, the Tsukuba Challenge real world robot event was held the same weekend.
Among my various micromouse-related goals, the chance to compete in Japan was near the top of the list. and I set out on my journey with great excitement. It is a long way to go and it turns out that Air France might not be my first choice of airline but it was well worth the effort. I finally arrived on the Friday morning at about 09:30. The original plan was to take a train from Narita airport into Tokyo Station and thence to Akihabara station. I really wanted to see the legendary Akihabara district while I was over there. Other folk may want to visit mountains, emples or gardens – I wanted to see the weird and wonderful world of Akiba that I had heard so much about. However, I could not get confirmation that there was somewhere to leave my baggage in Akihabara so I decided that caution and tiredness would win out and took the bus from Narita to Tsukuba. This takes about 2 hours and gives an excellent chance to see something of the countryside in that region of Japan. From the bus, one could be forgiven for thinking that Japan was a flat, featureless land although nothing could be farther from the truth. Most of Japan is mountainous. The huge flood plain that makes up the area around Tokyo is a vital agricultural area and you pass field after field of crops – predominantly rice. I don't recall seeing any livestock here.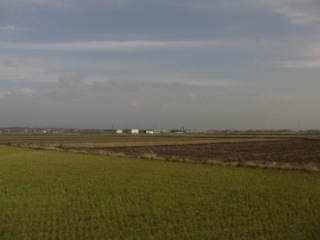 Eventually I arrived in the Tsukuba bus station which is situated conveniently close to the hotel I was staying at – the Daiwa Roynet. It was too early to check in to the hotel but they did allow me to leave my luggage while I went of to have a look around the town and get some lunch. Right next to the hotel are a couple of shopping malls. One of these, the Qt ('cutie') mall, has a number of restaurants inside, including Vietnamese and Korean cuisine along with others I could not identify for Certain. In the end I chose the only one that seemed definitely Japanese – a sushi restaurant and had my first taste of Japanese food. Very good it was too. I hadn't realised how fresh the fish was until I saw the chef dip into one of the tanks at the back and haul out the next set of ingredients.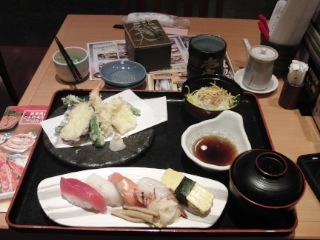 Properly fed, I took a walk up to the Expo centre to have a look at the real-world challenge robots. This event involves building autonomous robots that are capable of navigating their way along a pre-determined course around the centre and the adjacent park. There were about 80 entries ranging from converted RC cars to modified Segways and full purpose-built robots. There were many hazards for the ill-prepared including the lake, passageways, pedestrians and cyclists. While many fell by the wayside, a significant number were able to complete the 1km course.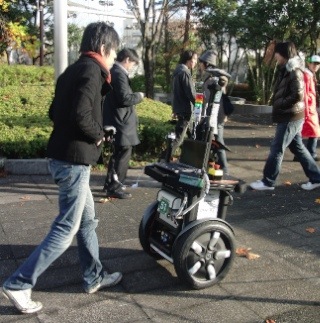 Next, I made my way back to the hotel to check-in and get unpacked. Hotel rooms in Japan are small although I was told this was larger than some. Still, it had all the facilities I could want with the possible exception of a drawer or cupboard for some of my clothes. There was a free network connection so that I could keep up with emails and do a bit of surfing should I want to. This was particularly handy for things like checking timetables, on-line check-in for the return flight and using Skype to call home for very low cost.
At around 7pm I heard the familiar voice of Dave Otten in the corridor when he arrived with Harjit Singh from the US. I popped my head out to say hello and we arranged to go for a bit of a walkabout and a snack once they had settled in. It was good to see a familiar face and have some other folk to talk to. The weekend was looking good. We all turned in relatively early, hoping for a good night's sleep to counteract the effects of the long flights. Some chance…
The full set of photos can be seen at the MicromouseOnline PicasaWeb Album