Finals day! I really expected to be nothing more than a spectator today so I was pretty excited about the fact that I would be able to run in the finals. No matter what happened, I felt that was a bit of an achievement. Apart from any nervousness, this was a fairly relaxed day. We could concentrate on watching the other contests as they were being run one after another. First up was the robotrace line follower contest…
There were a few gasps as the track was revealed. It was huge! I don't know how long it was but it took 20 pieces of MDF sheet, each about 1m x 1.5m to hold it. I would estimate the course at 50m in length.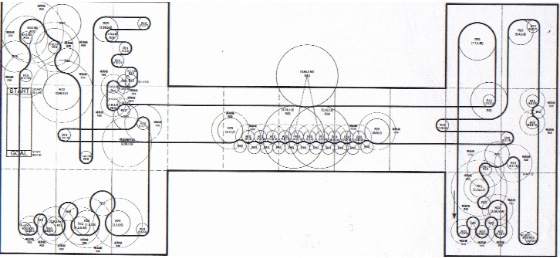 Styles of robot varied quite a lot. Historically, these were quite large with sensor arrays attached to the front wheels and Ackerman steering. This course was simply too tight for many robots of that style. The smallest radius turns left some of them simply unable to see the turn markers – particularly as they came out of the turn. The rules if tis context allow only three minutes per contestant to perform a discovery run and one or two speed runs. Many contestants used up a surprising amount of their precious time adjusting sensors. Some rendered themselves barely able to make a discovery run. Even the winning entry – Ning3 from Ng Beng Kiat – managed his three runs with only one second to spare:
There was great interest in the half-size contest this year. The qualifying contest had 33 entries and only the fastest ten were able to run in the final. This event was only instituted a couple of years ago and it is impressive that there are so many excellent entries able to run. Although the top three qualifiers all had close, competitive times, the mouse tipped for first place was undoubtedly Kato's Bee. This is a real half-size mouse – so small that, like its full-size brethren, it can't bee seen over the half-size walls. As with Tetra, Kato has taken a somewhat different approach to many and has opted for tiny 4mm motors with wheels directly attached to optical encoders.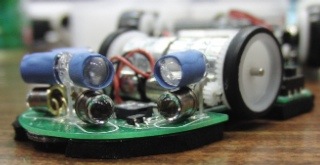 The performance is equally impressive. Here is The final with Kato running at the end and a bit of slow-motion goodness thrown in.
After lunch it was time for the main event – the expert class micromouse, full-size. There were 27 entries in this contest. Twenty were from the qualifying on Sunday and seven from the regional events. The mice ran in reverse order of performance with Decimus exactly half way up the field running 14th. Mitee 12 was four places further up than me, having placed twelfth overall in the qualifier. Contestants with two mice in the qualifier were only able to bring one of them to the final. This prevents one contestant entering several mice and potentially walking away with several prizes.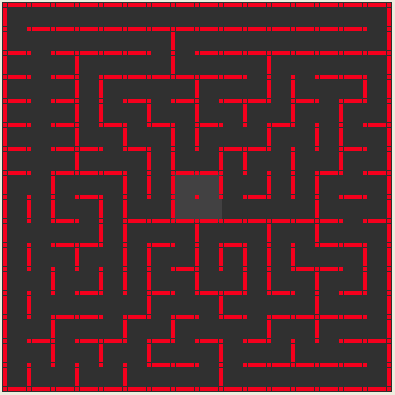 The finals maze looked like it might be a bit of a challenge. There were two clear paths to the goal the one that was mostly straights had a potentially unpleasant comb in it immediately after a probable diagonal turn. If my mouse chose that path, there was a real risk that it would not be able to align itself correctly. On the other hand, the alternate path might be worse. This path was mostly on diagonals without any real opportunities for correcting forward errors. I really must get that fixed!
I had made one small adjustment to Decimus. When returning to the start square, it would wait for four seconds to give me plenty of time to wait before picking it up. I didn't really want to be told off again. When it came to my turn to run, I was quite nervous. Decimus explored the maze quite reliably all things considered but unfortunately just could not manage a speed run. I used up all my five runs but eventually I had to give up with only an exploration time of 52.066 seconds to show. Still, that was better than some and I was pretty pleased just to have reached the final and got any time at all. There is a major lesson to learn here. Many mice in the qualifier failed to get through just because they were over-ambitious. Having explored the maze they seemed to go straight into all-out high-speed mode rather than getting a quick but safe time. It happened a lot.
Shortly after me, Dave Otten ran MITEE 12 and picked up a best run time of 9.993 seconds. With each successive mouse, the tension grew. Run times dropped and we all looked forward to what was sure to be a tense battle between the top mice. In the last four were Soh Yi Lang of Nanyang Polytechnic with Rush, Yin Hsiang Ting with BR8SW also from Nanyang Polytechnic in Singapore, the established champion Ng Beng Kiat with Min6 and the newcomer, Kato with Tetra.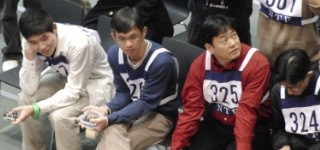 Rush performed very well, exploring the maze in 61 seconds and crashing only once to end up with a best time of 5.050 seconds on its penultimate run. This was enough to push it into first place. unfortunately I don't have a record of the mouse that was second. Next up was BR8SW. Things didn't go so well and only two runs were scored with a best time of 5.804 seconds. Beng Kiat stepped up to run Min6.2 but, after exploring the maze in a little over 67 seconds, the mouse crashed on its first speed run. Not to worry, there were three more chances. Then it crashed again. Now it was time to make a decision. I don't know how the mouse is set up but, on mine, each speed run goes faster than the one before. If you crash out on the first two speed runs, you have to ask yourself if you want to run the third one which may be even more likely to crash. However Beng Kiat sets up his mouse, he decided to start from scratch and explore all over again. he would then get just one chance at a speed run. After waiting for the exploration to run its course, it was apparent that Min6.2 was out of time and could not make another run.
After that shock, Kato was ready to go. This was it and we all edged forward in anticipation of another stunning performance. Except that Tetra failed to even explore the maze. Kato used up all five of his runs and didn't manage to reach the centre once. This was a major upset but now the contest was over.
I have not yet been able to obtain a full set of results but I shall post them as soon as I do.
So, what went wrong for the favourites? It seems that Min6.2 simply needed more sensor calibration. Video of its runs show that it hugs one wall all the time and, while reliable enough to get around the maze, it simply could not keep properly aligned at speed. I would guess that sensors were also the problem for Tetra. There is some mention of not being able to reliably see the wall ahead. Certainly, both contestants went off and made adjustments to their mice straight after the contest and were seen to run perfectly and with sub 5 second times. The Japan finals are run in very bright lighting conditions. The rules state that the lighting may be up to 3500 lux and it is rich in IR. Sensors certainly are a key part of a successful mouse.
After the contest was the prize giving. This was a remarkably lengthy event and we had little idea what was going on for most of it but it was good to see everyone's efforts so well rewarded. It being the 30th year this contest has run, there was a special mention for some key figures in the micromouse community. These were Itani of Japan, Ng Beng Kiat of Singapore and Dave Otten of the USA. They are seen here with Shin'ichi Yuta, chairman of the New Technology Foundation Micromouse Committee.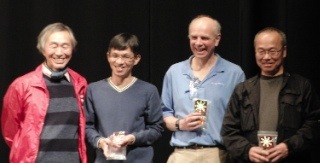 I had an excellent trip. I learned a lot and met lots of interesting people. I very much look forward to the opportunity to visit again.
The full set of photos can be seen at the MicromouseOnline PicasaWeb Album http://picasaweb.google.com/micromouseonline/AllJapanMicromouse2009