Sunday crept up on me after another poor night's sleep. Today was the all-important qualifying contest. In many ways, this was quite a relaxed day. After breakfast we went down to the Capio, got our gear set up and watched the opening ceremony. Once that was done, there was not much else to do except look at robots, watch the other contests and wait for our turn in the qualifying session. With 77 entrants to the expert class, the qualifiers were run on two mazes at the same time…
Full-size qualifying started pretty much straight away. Once we had our entry number and the corresponding bib, we could see which actual maze we would run on. Contestants who had several robots to run anxiously eyed up the schedule to make sure that they would not be trying to run on two different courses at the same time. As well as the Expert class, there was a freshman class micromouse with over 100 entries, half-size micromouse, robotrace – the line-following contest, and microclipper where otherwise standard mice would have to turn over all the drinks cans they could find in the maze.
The qualifying maze had a few subtleties to it but essentially presented mice with two main choices of route differing slightly in the number of corners they would take. This maze was also a bit of a test of the pathfinder code since a naive solver might not find the more efficient path through the diagonals.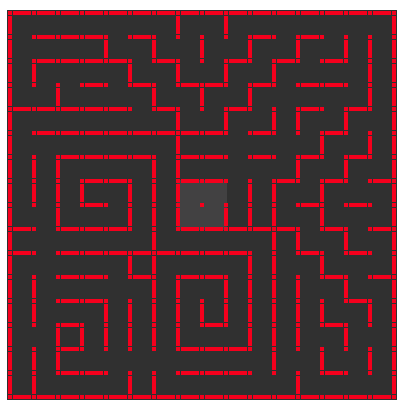 As one favourite or another got their turn, the other contestants would gather around that area to watch them run. Particular attention went to Kato with his four-wheel mouse Tetra, Ng Beng Kiat with the latest Min versions and the Nanyang Polytechnic entries form Yin Hsiang Ting and Soh Yi Lang. By the end of the day, the competition looked to be between Min6.2 and Tetra with only 0.25 seconds between them. They were the only mice that went through to the final to get times under 5 seconds. Min6.2 managed 4.863 seconds while Tetra did it in 4.622 seconds.
With about two thirds of the field done, the organisers arranged a lunch break. We took careful note of the time we were expected back and set off to the food hall under the MOG shopping mall next to our hotel. There was a great variety of lunch opportunities available at reasonable prices. I had no idea what to order so I simply found a vendor that had interesting-looking stuff and decided to have exactly what the person in front of me selected. Fortunately, this worked out pretty well. I ended up with noodles in miso soup with a soft poached egg, some tempura fish and a rice package. It was all rather good.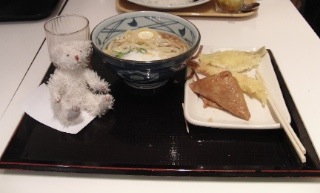 We sauntered back feeling pretty good. Until we got into the hall and realised they had started early. i rushed to our pile of gear, grabbed up my mouse and tyre cleaner and managed to make it to the maze in time. Another five minutes and I might have risked not being able to run. Only after I started my run did I realise I had left my glasses back on the bench so I had no idea whether the mouse had added walls or made other errors in the discovery phase and had to simply let it get on with it. the Japanese rules allow you to pick up the mouse if it has clearly crashed or when it is in the start square at a standstill. As Dave explained to me, this rule, combined with the fact that the score was simply the fastest run time, meant that there was no reason not to pick up the mouse when it returns to the start and give the tyres a good clean. It seems I was a bit quick off the mark though as I was told off for picking up the mouse before allowing it to clearly come to a halt. After a fairly nervous few minutes, Decimus had done its thing and my qualifying run was over. My best time was 11.017 seconds.
Since there were two mazes being run, it was not possible to see how that compared to other mice but it seemed pretty slow after seeing Kato run in 4.622 seconds.
Dave Otten, with MITEE mouse 12, was on the other maze shortly after me and managed a best run time of 9.560 seconds. Once the excitement was over, we had to wait and see if these times would be good enough to get through to the final. Out of the initial entries, the top twenty qualifying times would earn a place in the final along with the seven regional winners who got a place by virtue of having won local contests prior to the event. It was a nervous wait but, at the very end of the afternoon, we got hold of the list of entries for the final. I was surprised but very pleased to find that I had got the 16th fastest time overall and that meant that both Dave and I had a place in the final the next day.
While we were waiting, there was ample time to look at more robots and view some of the half-size qualifiers. That was going to be an interesting contest. There were 33 entries in this class and some very impressive-looking mice.
We didn't have a sit-down dinner that evening as there was the traditional Sunday evening mouse party. This is a buffet event in one of the meeting rooms adjacent to the arena. There was plenty of food, some speeches and some beer. We seem to have left before some of the speeches so I have no idea how long the event went on for. I was tired anyway so I was looking forward to a good night's sleep…
The full set of photos can be seen at the MicromouseOnline PicasaWeb Album