Last weekend, I was in Portugal taking part in the 2016 Portugal Micromouse Contest held in Aqueda. What a weekend! I met a bunch of great people, got to catch up with Ng Beng Kiat and managed first place. It doesn't get much better.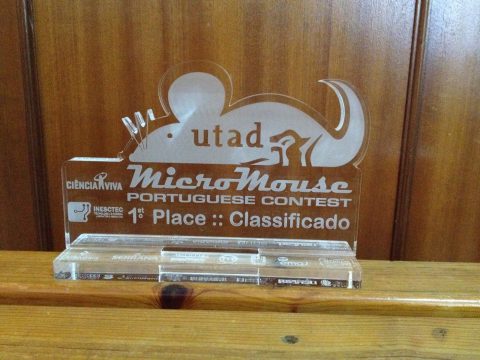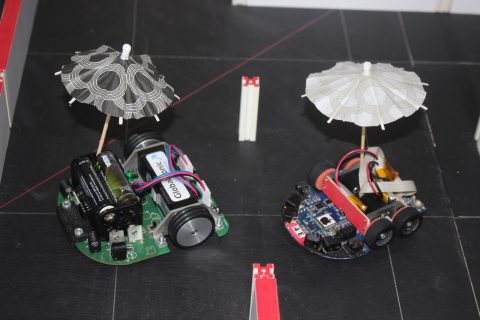 Portugal Micromouse
A few months back, I received an email asking if I would like to take part in the 2016 Portugal Micromouse Contest. Of course, I said yes. I know there are micromouse contests in various parts of Europe but this was the first direct contact I had with any event organisers. Not only was I keen to find out what other micromouse builders were up to, I have never been to Portugal and that was definitely something I needed to do.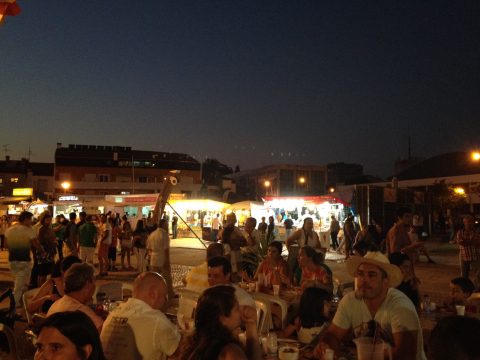 Arrival in Agueda was quite late as far as I was concerned but it soon became apparent that for many locals, the night was just beginning. July in Agueda is festival month. Every night there is a performance in a temporary auditorium erected near the town centre. Yes, every night. On Friday and Saturday nights there is nowhere to park anywhere near the town centre. Really – nowhere. My first impression of Portugal then was party time. That evening, I met several key players in the local contest organisation – Carlos Alves, Pedro Almeida and Carolina Alves. There were many others so my apologies for not remembering everyone. Carlos runs several local companies including Globaltronic who build the micromouse kit used by many of the student entries in the contest. Pedro runs a makerspace and resource in Agueda called the Agueda Living Lab. Between the two of them, I was well looked after during my stay in Agueda even though they all clearly had plenty to keep them busy. Pedro and Carolina, for example, were at the contest venue until 2am getting things set up. Probably, the festival activities across the street were just getting into their full swing by then but I am of an age where I need more sleep so I went back to the hotel for a rest.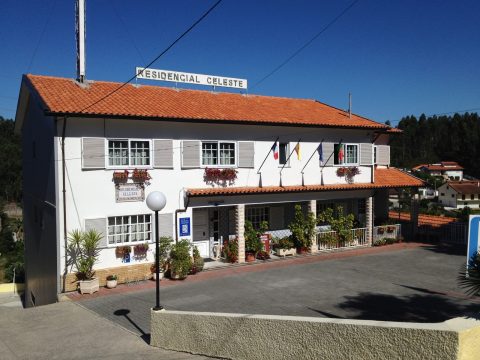 Residencial Celeste
The hotel was a residencial – a kind of guest house that was only a little short of a normal hotel and provided all the facilities one might require including excellent staff. Arguably the most significant facility after a comfortable bed and en-suite bathroom was breakfast. Here it was continental and plentiful with a good range to keep me fuelled for the day.
Breakfast and food
If you have read my posts before, you may have noticed that I like to eat. Not only that but, on trips like this, I eat whatever there is at every opportunity. It is all too easy – I tell myself – to end up not knowing where the next meal was to come from or when. This inevitably turns out to be nonsense and I end up having eaten way too much. Almost never have I been disappointed though and all my eating experiences in Portugal were good. Very good actually.
Also staying over the weekend was Ng Beng Kiat from Singapore. Since he arrived the previous day and was 7 hours out of his time zone, he had already gone to bed so we would not meet until the next day over breakfast. Besides, by now it was midnight and I was ready for bed myself.
In the morning we were immersed with news of the affairs in Istanbul. Beng Kiat was somewhat fortunate in that, after the previous attack there, he had his flight re-routed. Otherwise, he might well have spent the entire weekend in Istanbul. The day was already very sunny and warm and the area around the hotel was looking very appealing in the morning sun. The photos, by the way, are undoctored and the sky really was that glorious, perfectly cloudless blue.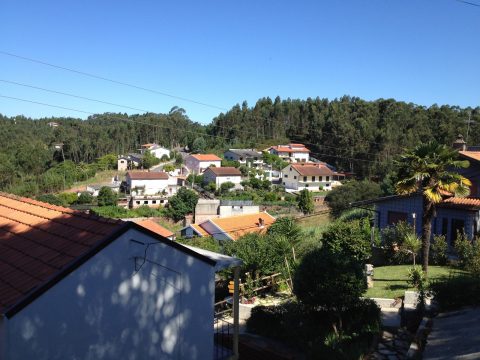 Saturday was a relaxed start and we did not need to be ready until 10:30 so we walked down to the nearest shop for some bottled water. This was a Lidl store. It is one thing to know that Lidl has branches all over Europe, it is another to walk into a Lidl store in Agueda and be faced with the same store layout and, mostly, the same products as are to be found in my local store.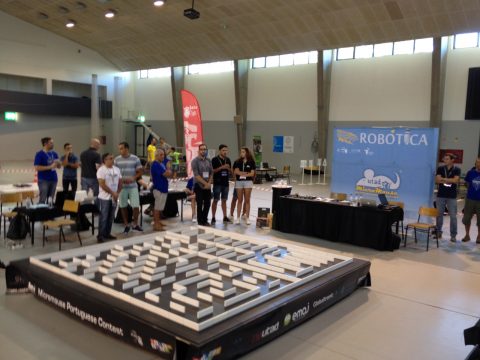 Contest time
Soon enough though, we were in the gymnasium where the contest was to be held and it was down to business. These contests are a strange thing. For a large part of the day, you could be anywhere as your focus is all on making sure the robot will run as well as possible. This time out, I had two to look after. There was my own Decimus 4E of course and also a mouse kit the same as was used by the local contestants. I will write more about that in another post. For now, I was just anxious that I could get it to work in their maze. It was hard to shake the feeling expectation was high that I could make it do what it should.
The local maze was made of injection moulded parts that appeared to have the same reflective properties as my own maze at home and I felt confident that I would not need to re-calibrate either mouse for his maze. That was good because it can be a tedious and potentially error prone business to get the calibration right. Naturally it would be better if I could come up with some clever way to automate that and make it more reliable. One day perhaps. Decimus seemed to be behaving well and that gave me a little time to work on the kit mouse since I was still a long way off getting that software to do what it was supposed to do.
Part of the event was a display of project work by local student groups. These ranged from model building elevator systems through to telemetry systems for rocketry. The range of projects present and the skills and achievements of the students was impressive. It was hard not be interested in a system for flushing urinals triggered by the cooling effect of liquids flowing through the drain. Or by tales of exploding rockets and lost telemetery packages. There were many projects shown and I must apologise for not writing about them all even though I did try to speak with everyone.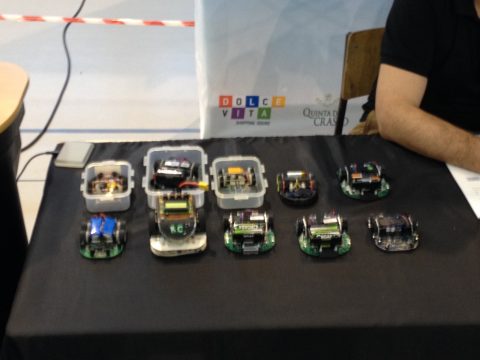 Qualifying Heats
Mid morning it was time for the first qualifying runs. As it was a qualifier, the maze was reasonably simple. At least, we thought so. My kit mouse entry failed to find the middle which was a bit embarrassing but I put that behind me and moved on. There was no electronic timing but three volunteers with stopwatches provided excellent services all weekend. I think they were a little un prepared however for the relative speed of the mice from me and Beng Kiat. In this first heat, Beng Kiat ran with a time of 1.73 seconds and I did 2.05 seconds. Third place was 38.4 seconds. Scoring was done by Japan rules so only fastest times were recorded. Unfortunately, I lost my record of the maze design for that one.
My mouse kit had a bit of a reprieve when it turned out that there was a second chance to qualify so I got to work hacking on the hastily implemented code. The problem was that I had developed bad 32-bit, floating-point ways and the kit used an Arduino. I had forgotten to protect variables that were being updated in interrupt routines from being corrupted while I used them. A few strategic guard statements soon sorted that out and the kit mouse made it's way to the goal without error. It even demonstrated that it was using a smart search for the goal by clearly attempting different routes as it discovered more of the maze. Sadly, it was a one-hit wonder in that I had not ben able to implement the fast run that would take it directly to the centre next time out. Not to worry, the basic task was done and the hardware shown to be up to the job. All the rest is about software. A few other mice also made it to the centre so there would be a number of entries in the final the next day.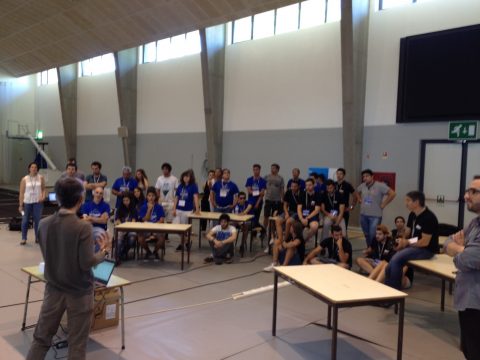 As part of our visit, we had been asked to give a talk as part of the workshop events over the weekend. On the Friday, Beng Kiat spoke about his low resolution encoder plus accelerometer fusion used in his half-size mouse. I have seen the talk before and was looking forward to going over it again in the hope I would understand more this time but I missed it since I was still in transit on the Friday. On Saturday, Beng Kiat gave an overview of the development stages through which his mice had progressed. It is always interesting to reflect that everyone has to start somewhere – even if it does appear that Beng Kiat hit the ground running.
Local Entries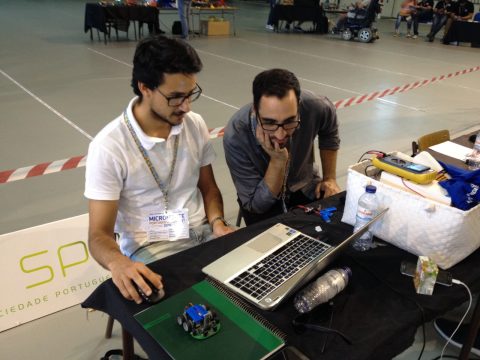 Aside from the schools entries there were also some entrants from Portugal with a little more experience. These were Daniel Gonçalves (on the right above) and David Sousa (on the left). Both had well built contemporary four wheel mice using DC motors. Daniel is the current Portugal champion. You can find out more at LusoRobotica.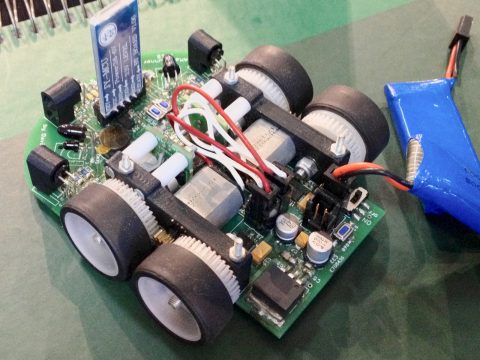 David's mouse was interesting in that it used relatively inexpensive can motors with magnetic encoders. While this combination has its issues, I think there is a lot of potential for making a competitive and cost-effective mouse.
The Finals
After the heats (and a good lunch) there were several events to run in the afternoon. Our main final did not start until some time after 7pm and, to be honest, I am not even certain how many entries there were. Eight I think. The mice were sequestered and the maze was duly set up while contestants of all levels of experience looked on wondering which route they would take, how fast they could run and exactly where they would crash. There were two principal routes:
The long route was much longer than the short route. The numbers in the screenshots are approximate route lengths in mm.
How did we run?
My mouse took the short route, Beng Kiat's mouse took the long route. In the end, I managed about 4.5 seconds and he managed about 4.8 seconds. When I later forced my mouse to take the long route, it took about 5.2 seconds. Both Beng Kiat and I were surprised he went the long way round but I can't say I was unhappy since it meant that I came first and he came second. My usual issues with complex turns prevented me running at the highest speeds I have managed in the past and there were a number of unfortunate crashes by Decimus 4E. The construction of this maze is not as robust as some so walls and posts went everywhere. A little embarrassing really. Full results should be available soon from the contest web site.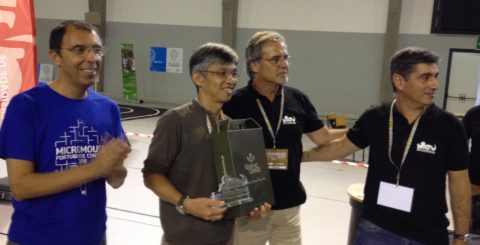 Because he had to leave in the morning Beng Kiat had his second prize presentation that evening before we finished.
Dinner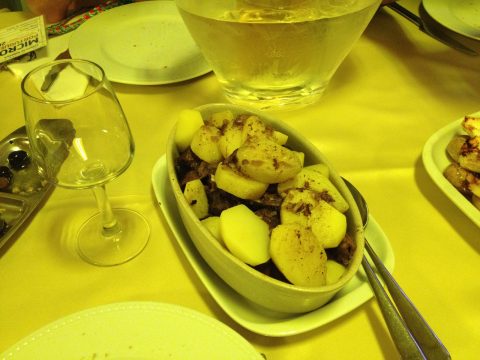 Time appears to be different in Portugal and it was about 9pm before we made our way to the restaurant for dinner. The menu was simple and good although we (me and Beng Kiat) had to have most things explained to us. I chose the Lampatana. Mostly, that was because nobody seemed to be able to explain to me what it was. Really, I could not resist the mystery. Lampatana (also known as Chanfana?) is a mutton (or goat) stew made with red wine and cooked for a long time. It was very good and I shall have to try to make one at home since it does not seem complicated. Now I think about it, that exact thought was what got me started in micromouse a long time ago and I still don't have that quite sorted out yet!.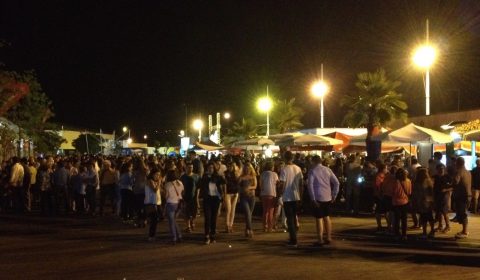 The food, wine, company and conversation were all good and by the time we were leaving at midnight, the festival was in full flow outside. Unsurprisingly, I decided to turn in rather than party the night away.
Sunday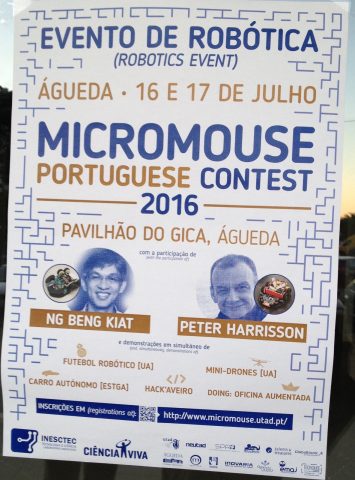 On the Sunday, Beng Kiat had to leave early and we had a (largely) relaxing day running the mice and doing presentations. For my presentation, I made everyone listen for over an hour while I talked about historical micromouse designs, the current state of the art and some trends to look out for. The audience put up with this very well and asked some great questions. With the level of interest shown, I am sure it will not be long before there are plenty of competitive mouse designs coming out of Portugal. It was only that morning that I saw we were both on the contest flyers. Such fame!
Sunday Lunch
By lunch time on Sunday, the business of the contest was largely done and we had lunch on the terrace with roast suckling pig and cold beer. I also discovered a shared interest in the stories of Asterix. It was getting very warm by now – I was told it was approaching 39 degrees. Nonetheless, we had some clearing up to do. Rolling up the big mats that had been covering the gymnasium floor was no kind of fun and by the time we had all finished we had definitely had enough. Time for more bottles of cold beer from the amply stocked dustbin full of iced water! Feeling a little sticky and grubby after that, I elected to go back to the hotel to clean up before dinner.
Sunday Night Out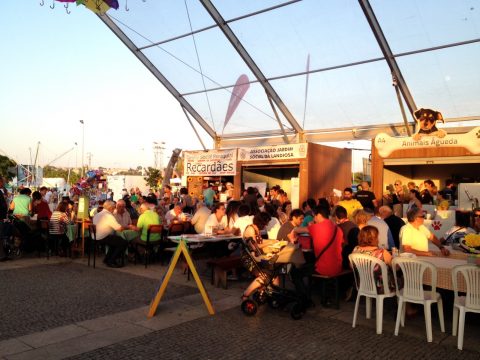 Dinner turned out to be in the auditorium used for the concerts. I had not noticed before but one half was made up of a large number of small restaurants. These were just big enough for a long table with bench seating. Each could hold 20 or so customers. the restaurants were run by local groups. I believe they were charity and social groups. some were bars, most sold food. Each year in July, all this gets set up and then taken down at the end of the month. All were packed with families and groups of friends having a thoroughly good time. We arrived around 8:30 and stayed until 10:30. Probably many others stayed on but Pedro and Carolina gave me a quick tour of the town by night before driving me back to the hotel.
Festival Umbrellas
The festival has an umbrella theme and they are to be seen everywhere. Most impressively, they form a canopy over the auditorium and along the main streets of Agueda. When I asked (the Mayor no less) "Why Umbrellas?" His reply was instant: "Why not?"
Monday meetings and home
My flight on Monday left around lunchtime so that gave me time to visit the Globaltronic premises and have a bit of a tour before sitting down with the designers of the micromouse kit used by the students. This all got a bit technical but I was able to talk with them about the design choices they had made and I think we came up with some ideas that might be incorporated in the next iteration of this useful kit.
Looking Back
Weekend trips like these seem to pack so much in it takes a while to process what you have seen and done. I am still letting it all sink in. What I can say is that I had a really good visit and enjoyed immensely meeting everyone and finding out more about them and their projects. Discovering Agueda was the cherry on the cake. Most visitors to Portugal, I think, go to the south of the country – probably the Algarve. I have no doubt that is beautiful and a great place to visit but my brief introduction to this more Northerly region has left me wanting to return. The Algarve can wait.
I will close by thanking Antonio Valente and Salviano Soares of the Universidade de Trás-os Montes e Alto Douro (UTAD) for making all this happen. Also, thank you to all the other people involved in hosting and organizing the event.