Birmingham City University hosted BCU RoboFest – the November robotics event in Birmingham for micromouse and other autonomous robots – on Saturday November 16th as a part of its open day. The day was a great success. As well as running our micromouse contests, we played host  to several groups of prospective student – all keen to find out as much as possible about their choice of university.
A relatively quiet and informal affair, Robofest still attracts the top micromouse builders and this year we met a number of new faces who were either running robots for the first time or who had simply come along to find out more.
There were a couple of innovative ideas about. Bernard Grabowski showed us his 3D printed chassis for a multi-purpose contest robot.
 This carries a picaxe processor and a couple of power op-amps for a linear DC motor drive. The sensor assembly is easily replaced for a variety of small robot events including wall following, line following and even sumo if you wanted. the drive is provided by a pair of the commonly available 12mm gearmotors connected to 3D printed wheels carrying o-ring tyres. Inside the body is room for the battery pack and a reflective sensor to make a wheel encoder if the builder wants some odometry feedback. these little robots look very versatile and deserve to become popular.
This interesting mouse was built by Stephen Pitthouse:
It was a really nice, simple design based around an Arduino Nano and the same kind of gearmotors as are used in Bernard's mouse above. In this case though, encoder data comes from magnetic encoders – presumably AS5040 or similar – mounted outboard of the wheels. While such a design has its shortcomings, it can be done really well and certainly gets the job done. After all, it is only a problem if you hit a post and why would you want to do that?
The line follower event was a little low-tech this year. Not because of the entries though. the timing system had not been installed so the timing was done with a stopwatch and whiteboard.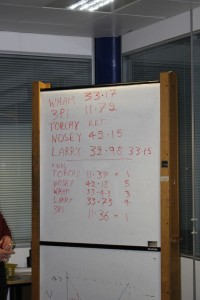 Given the precision of this system, two robots shared first prize because it was not clear exactly how big was the margin for error.
[Thanks to David Hannaford for the following information]
Stephen Pitthouse's Torchy tied for first place with a new entrant 3PI which was based on a very neat and capable commercial Polulo chassis with changes to the processor and software. Bernard Grabowski's versatile Wham was third in effectively the same time as Larry the line follower – another new entrant this time from Tendring Technology College in Essex with a line follower which was put together in just a couple of weeks. They had previously done well in the Toyota STEM challenge but since this competition was cancelled this year they needed another challenge. As usual the now ancient transistor based Nosey followed the others around with its usual slow but reliable run.
We had set up for a sumo event but it turned out to be a bit of a on-sided affair with only the one entrant.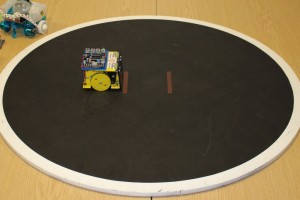 Next up were the wall-followers in the main maze. Here I have to confess to having my head thoroughly buried in my own mouse so I have almost no recollection of what went on. My apologies for all those contestants who worked so hard to get a mouse in. Should anyone want to add a quick report on the wall-followers please get in touch and I will add it in.
[Thanks again to David Hannaford for the following]
The non contact wall following contest was close this year with Bernard Grabowski in first place with Wham (the 3D printed design you mentioned earlier) in 34.68 seconds. In second place was David Hannaford's 4 wheel mouse Quad-rat-ic in 37.97 seconds, followed by Ken Hewitt with Lefty in 47.92 seconds. Ian Butterworth managed to complete the course with his first ever mouse using the PIC one chassis in fourth place in 62.05 seconds, leaving Martin Barrett to bring up the rear with Kitty in 80.21 seconds. The event was remarkable in that nobody needed a touch at any time on any of the mice to get to the centre. E-rat-ic lived up to it's name and died half way round for no obvious reason to get a DNF.
All events followed the usual pattern of a morning heat and an afternoon contest. The heats were not for the purposes of elimination but allowed the builders to test their micromouse in the actual contest setting and make whatever adjustments were needed.
In my case, that meant a couple of changes. The previous week had been spent trying to make improvements for the trip to Japan on Wednesday. I had the mouse working really well and thought I had a good strategy for the UK contest rules. Unfortunately, the contest maze turned out to be significantly more slippery than I expected and Decimus 4 could not make its first – supposedly safe – speed run without crashing. After cleaning the tyres and a manual restart, it was fine but, in terms of the scoring system, the damage was done. The touch penalty of three seconds is pretty well the end of the game if any one gets anywhere near the same time without a touch.
So – over lunch, I cut back the speed of the first speed run and changed to using Japan strategy. This involves a more thorough search of the maze before committing to a speed run. That too was nearly a bad idea as the search Decimus 4 did before getting in a speed run was quite lengthy. I think it took me about 40 seconds more than Derek Hall's FAB1 to get the search done. That alone added a second to the score.
In the end though, it all worked out and I was really pleased with Decimus 4's performance. It managed an overall score of just 11.34 seconds and a fastest run of 6.91 seconds.  No proper data yet so here is a photo of the scoreboard at the end of the contest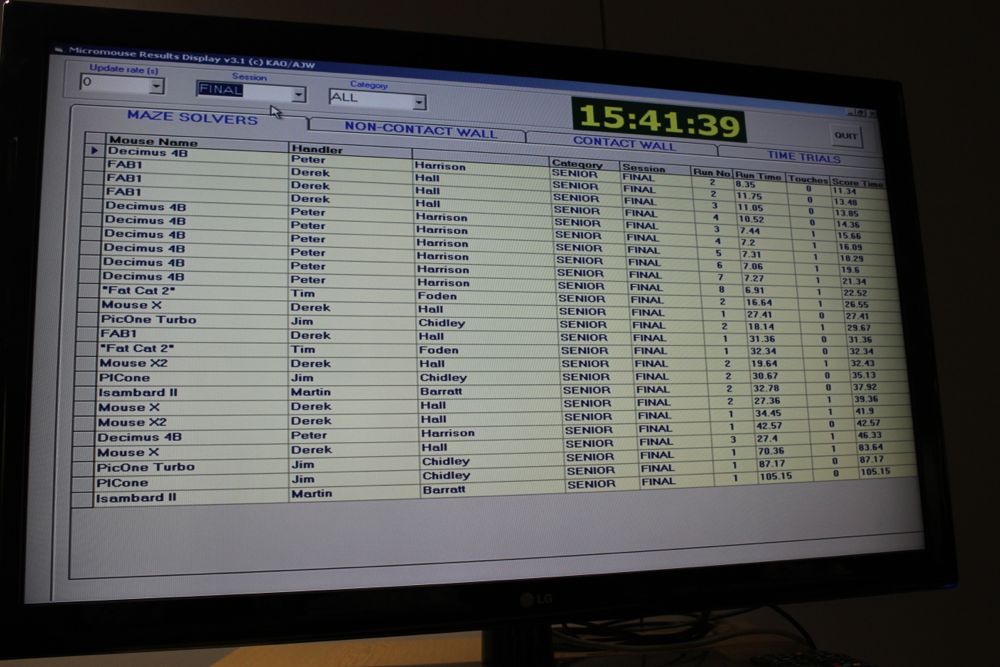 The maze was of a fairly standard length and not overly complicated.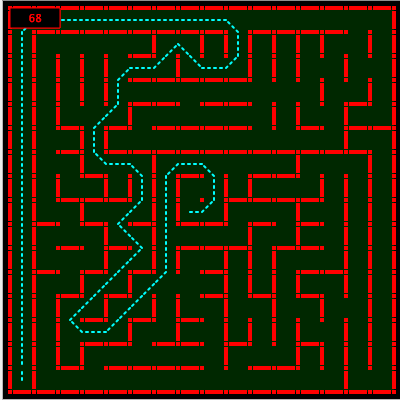 Still – it was an excellent time and I would hope to do better on a less slippy maze surface. On that subject, it is not entirely clear to me why the maze was so slippery. It had been vacuumed clean and then wiped down. Even so, my tyres were picking up a lot of cruft after each run. The maze surface is quite rough and that actually may not help for my tyres. Some more experiments are needed I guess. In any case, the maze is the same for everyone so it does not matter much in the end.
While considering excuses – when I got home I realised that I had forgotten to calibrate the sensors against this maze. Now I wonder if it would have gone better or worse if the sensors had been properly set up.
The last event of the day was the time trial with a series of runs around the outside of the maze. In the summer, I was interested to see that my mouse was getting slower as I increased the speed parameters. With a good idea in my head of why that was, I went for a different strategy this time and managed to get the time down to 5.02 seconds. Only three of us had a go at this but the results are interesting.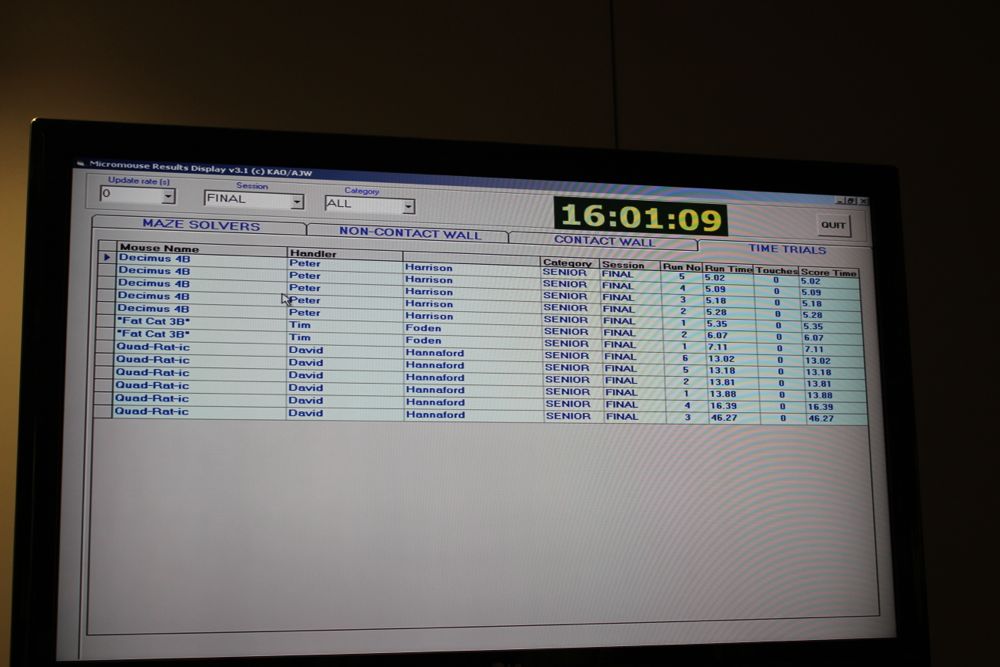 Looking at my data logs after the event, I now have a much more clear idea of what is going on and next time the opportunity presents itself, I think I can get the time down to 4.5 seconds.
Derek Hall has uploaded a couple of videos from the day.
Thanks to Tony Wilcox, Chris Evans, Vadim Melnicuk and other helpers of Birmingham City University for making all this possible and seeing that everything went smoothly during the day